Iris
North Sea , UK , Wadden Islands , Channel Islands , France
The Iris is a traditional Dutch herring-lugger. She was built in 1916 in the Netherlands. With her overall length of 36.00 metres (118 ft), beam of 6.7 metres (22 ft) and draught of 2.8 metres (9 ft) she combines excellent sailing qualities with a high level of comfort. Her living accommodation comprising of five twin berth cabins (each with it's own wash basin), toilets, showers with hot and cold water, galley and spacious lounge provide ample space and generous headroom for the tallest of guests.
The small library offers a quality selection of novels and marine related books. Computer facilities are available for guests.
Interested passengers may follow sailing and navigation training. As well as overnight trips and longer voyages the Iris offers suitable accommodation for day trips and corporate events such as management training.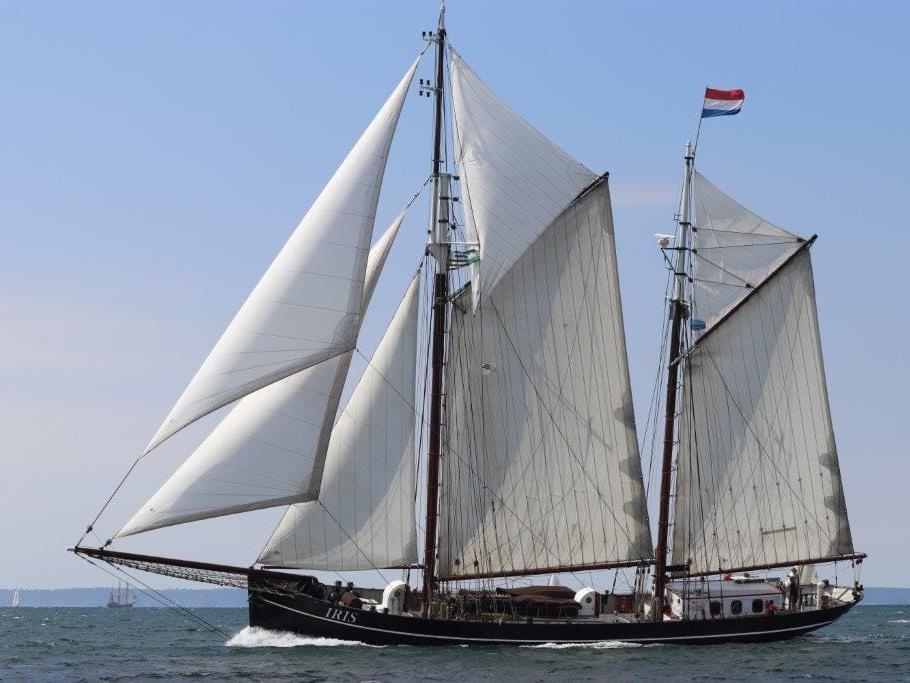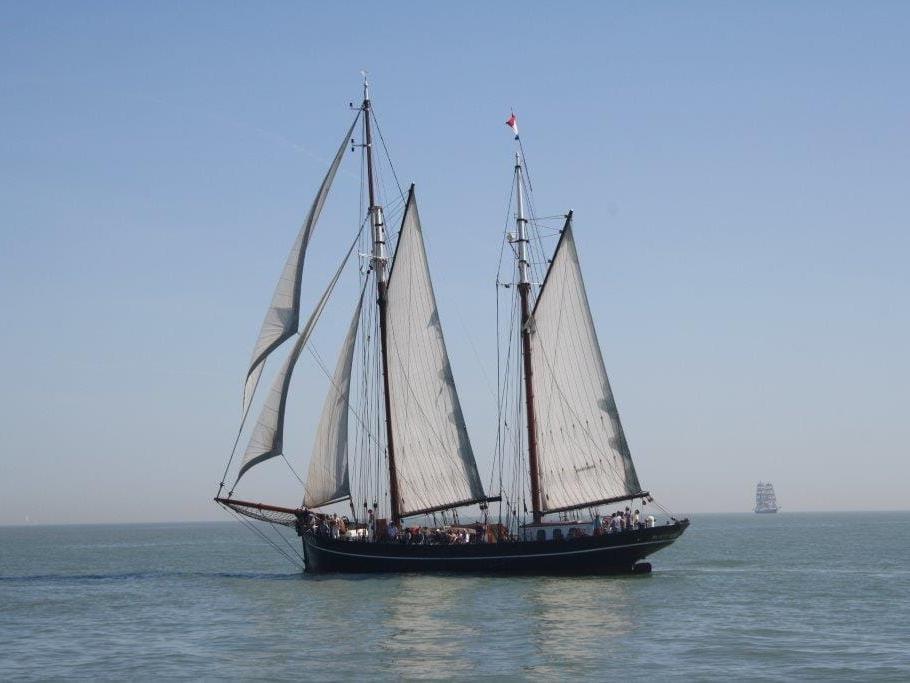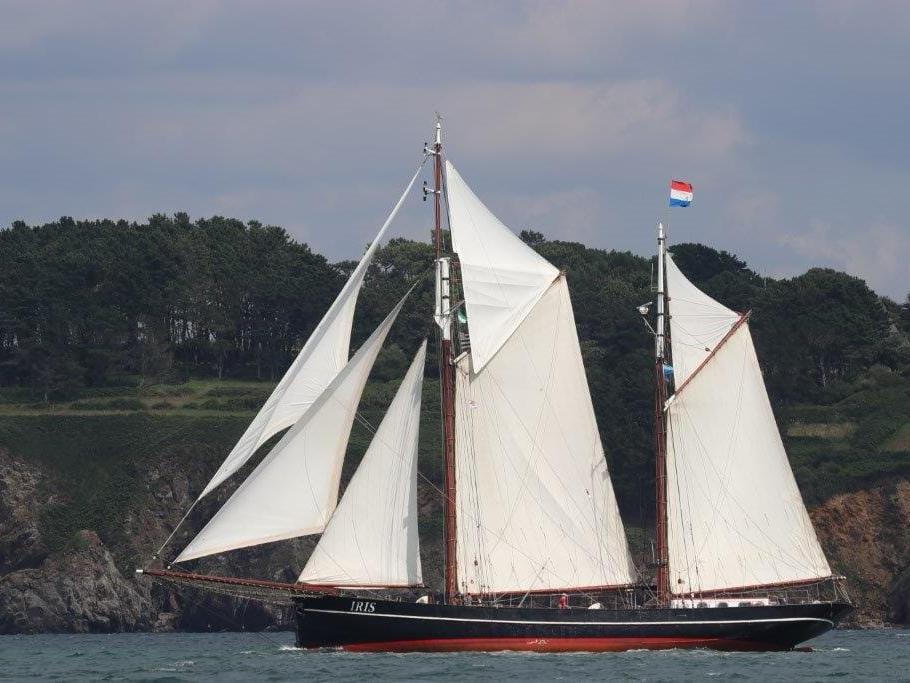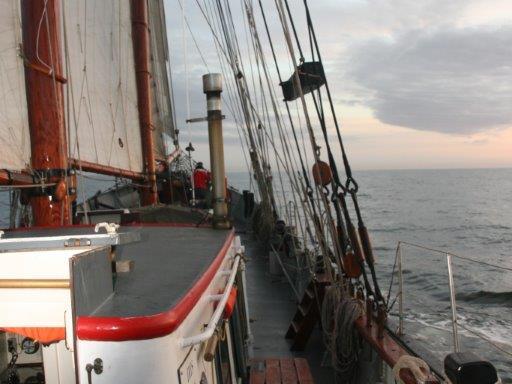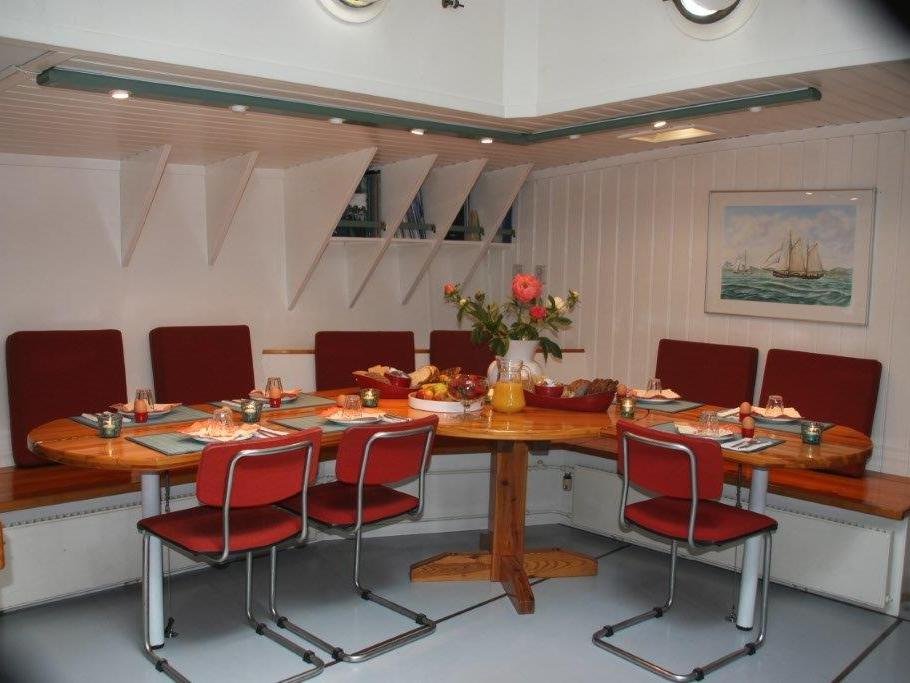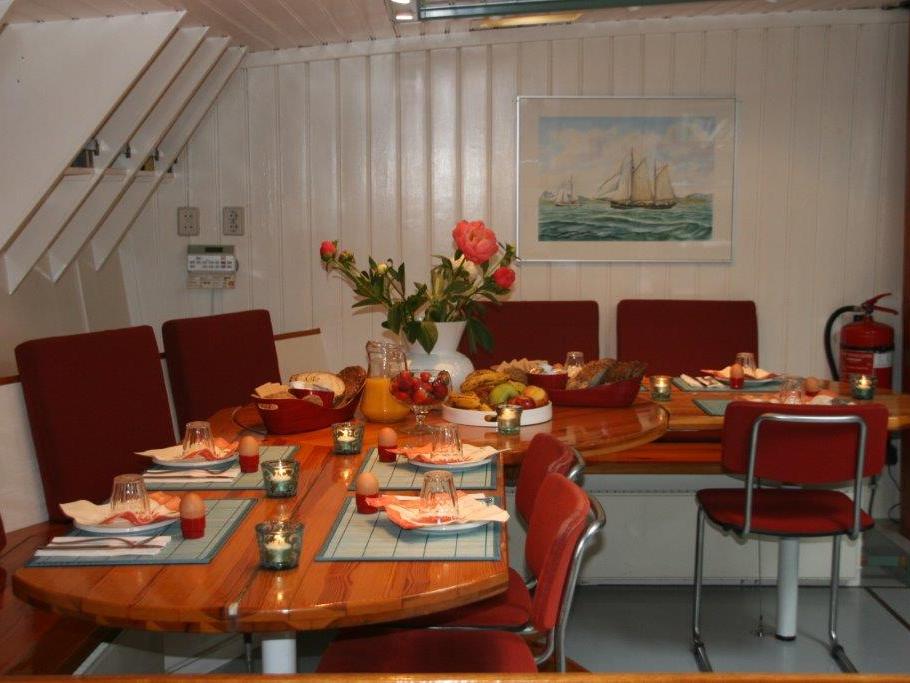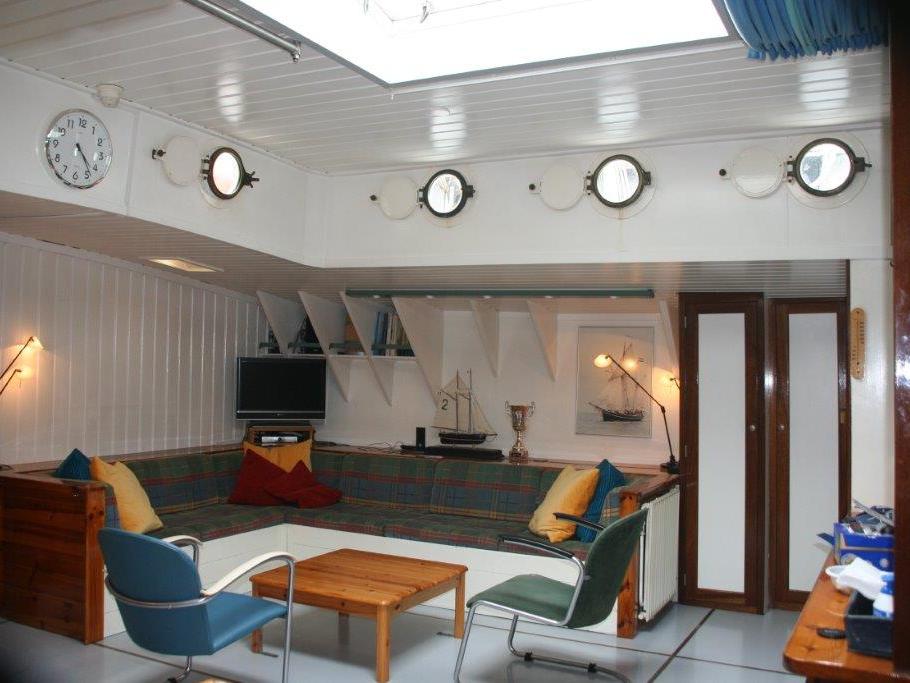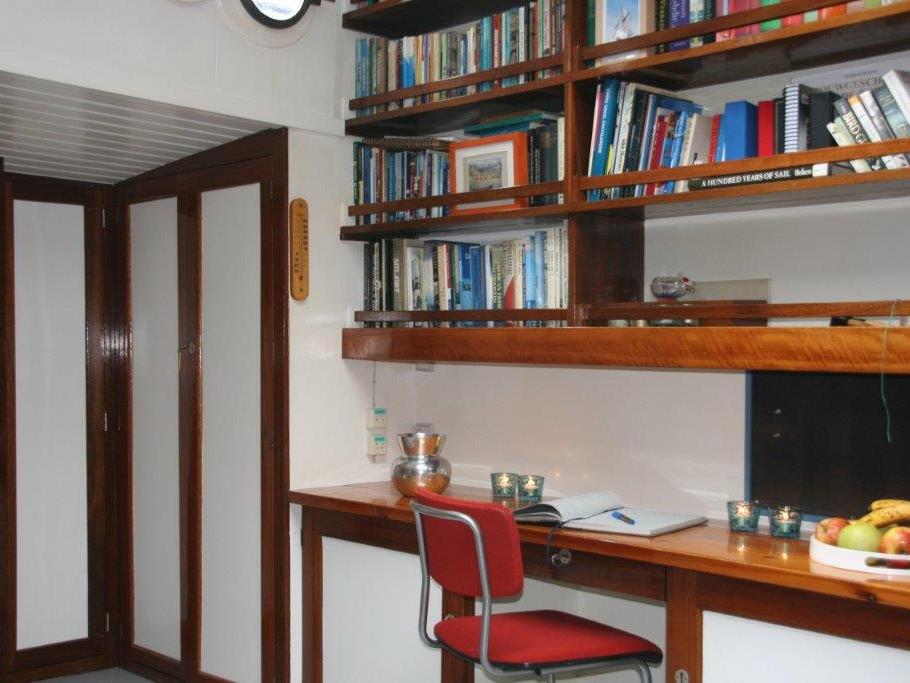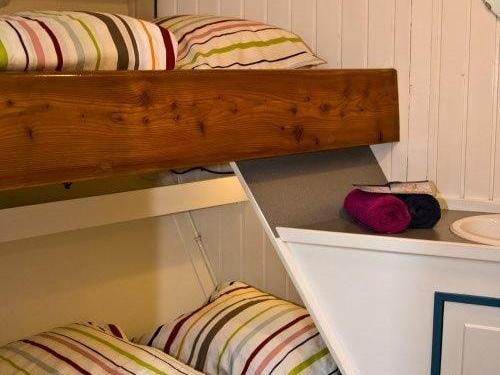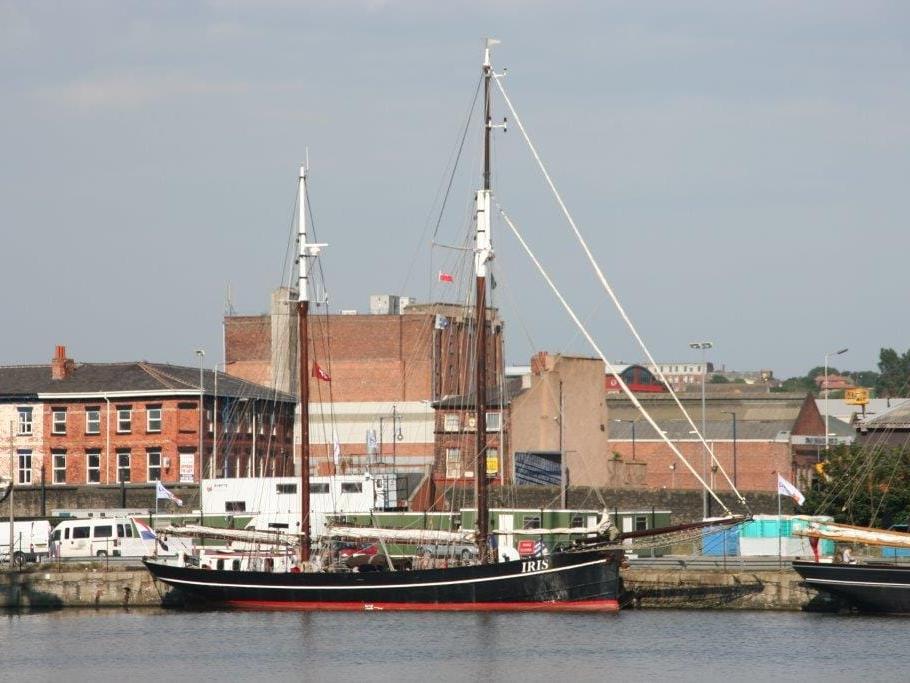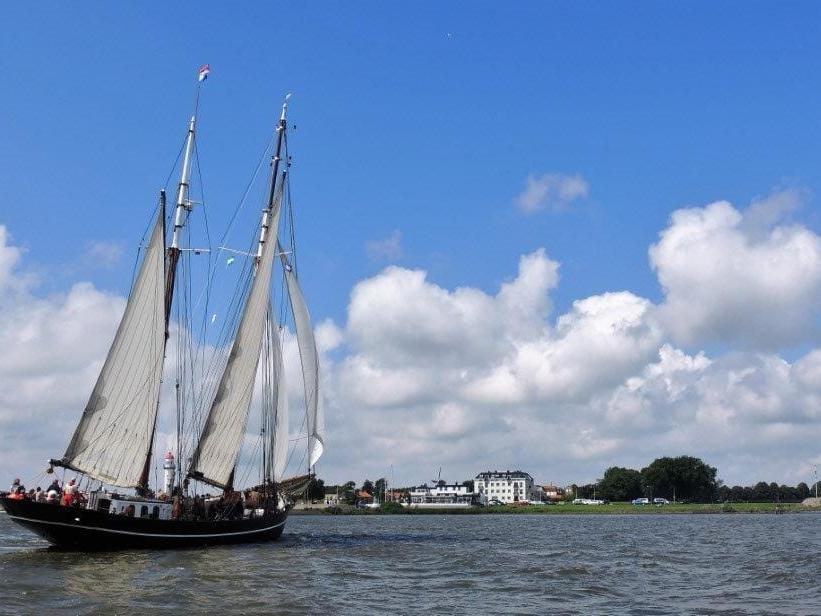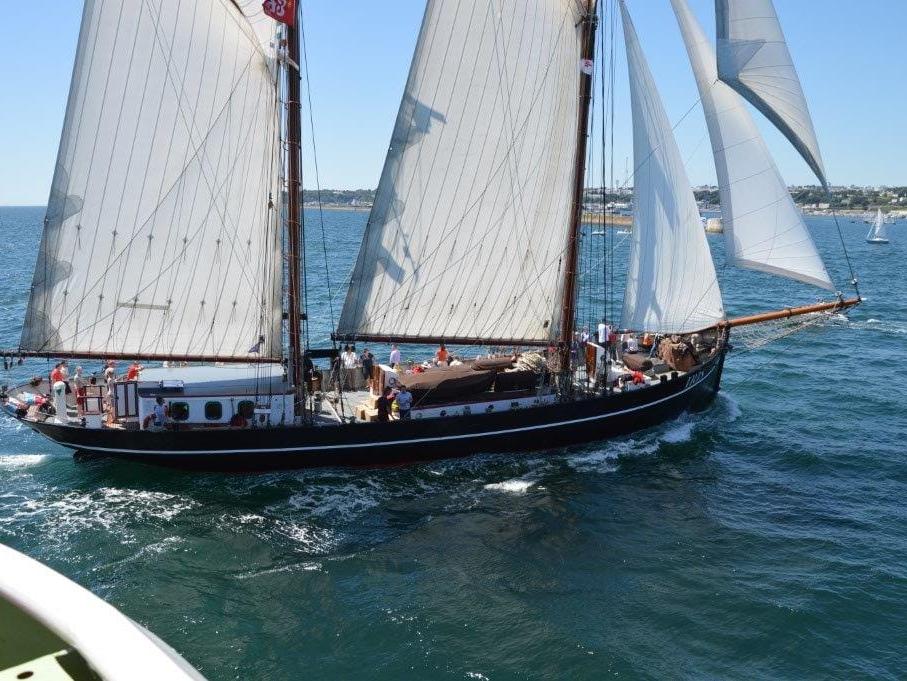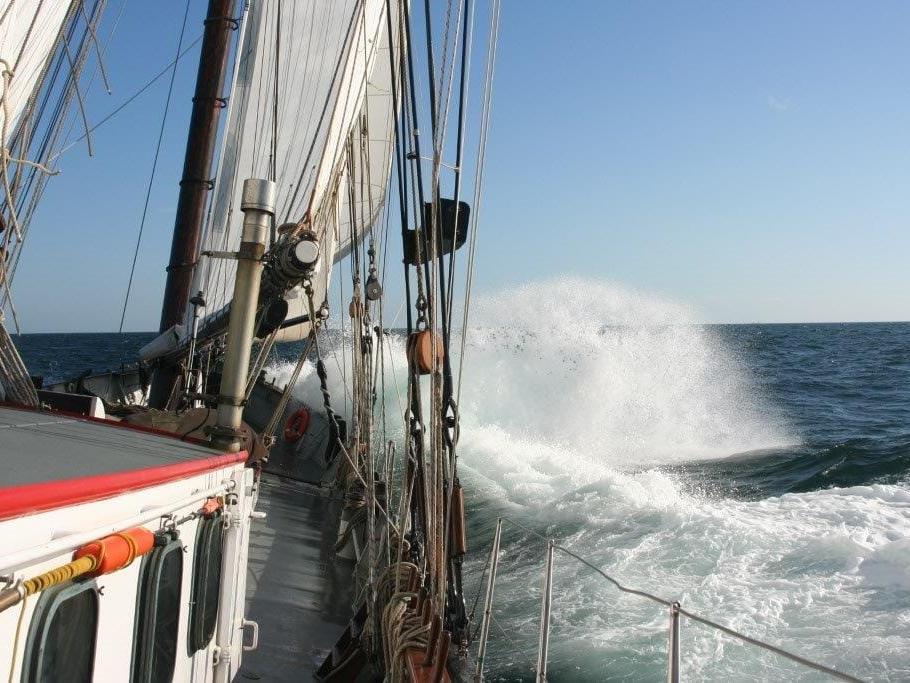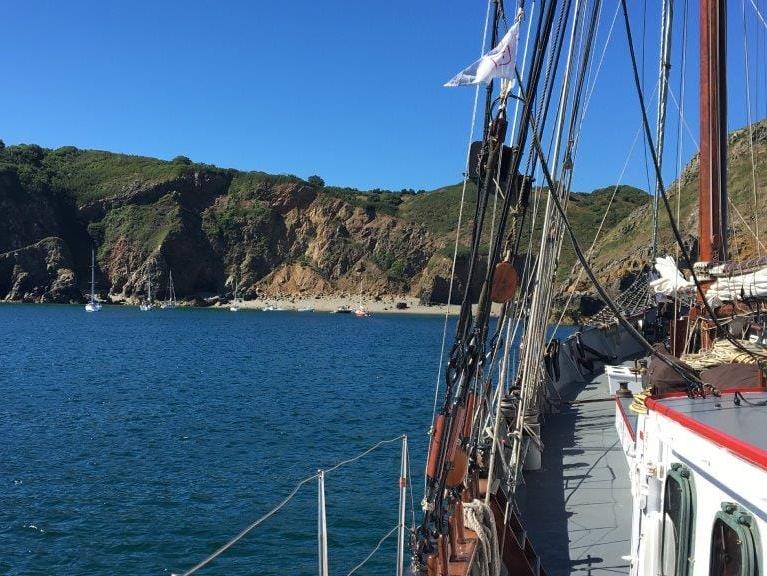 Specifications
year of construction: 1916

length: 36,20 m

width: 6,6 m

draft: 2,8 m
rigging: ketch

sail area: 500 m²

day trips: 36 passengers

multi-day tours: 10 passengers

GT: 160 tons
prof. crew: 3 - 4
Detroit Diesel V8 380 hp

electronic compass

radar

GPS satellite navigation

Medium wave radio

VHF radio

navtex (weather reports via radio transmitter)

echo sounder

automatic pilot

Gesproken talen aan boord: Dutch, German, French, English
Floorplan

The crew
You will be welcomed aboard the Iris by Captain Ben Bos, along with his fellow crew members, first mate, sailor and cook. All crew members are graduates for the well-known Enkhuizer School of Navigation for traditional sailing vessels. Crew members are fluent in English. 50-year old Ben Bos has a medical background and over 25 years experience in sailing traditional seagoing vessels.

The sails & rigging

The Iris has a ketch rigging, this means that the rear mast (the mizzen) is shorter than the front mast. As standard she sails with a mizzen, a main sail, staysail and two jibs. Both masts can also be rigged with top sails. In light winds a mizzen staysail and a flying jib of 150 m ² can be added to the standard set of sails. With all sails set the Iris can under favourable winds reach to between 8-11 knots (15-20 km/hour).
Navigation and instruments
The Iris contains all modern navigation equipment to safely sail the oceans. Along with traditional navigational instruments such as a magnetic compass, sextant and a trailing log she has all modern means of navigation like an electronic compass, radar and GPS-satellite navigation. Radio communications like a VHF radio and telephone are able to maintain constant contact with coastal stations.
Navtex (weather and safety information system), echo-sounder and automatic pilot guarantee comfort and safety. The advanced on board computer constantly presents actual positions on screen ("Geographic Information System"). In combination with traditional navigation methods like "dead reckoning" the chances of losing your way at sea are reduced to the minimum!
Safety
In her many years of sailing the Iris has been a safe ship.  However, Iris does meet all the modern safety requirments.  Therefore, the Iris contains abundant means of security in the unlikely event of an emergency.  On board there are: 29 modern life jackets, lifebuoys, lifelines and two inflatable rafts.  It goes without saying that the Iris has an Epirb (Emergency, positioning indication radio beacon) and a Sart (Search and rescue transponder).  All compartments are provided with smoke and fire alarms. There are 10 fire extinguishers positioned at strategic places in the various compartments of the ship plus a self-contained fire extinguishing system in the engine room. The ship has several emergency exits and an evacuation alarm system.  The crew are fully trained in fire fighting and emergency procedures.  First Aid and medical supplies are also well catered for, in accordance with the strict regulations as laid down by the Dutch Shipping Authority.  The captain, Ben, is experienced and well trained in medical procedures.
The main engine & generators
Iris' main engine is a 12 litre Detroit Diesel V8 with an output of 380 horsepower. This provides a cruising speed of 15 km/hour.
Besides the main engine the ship has two separate generators to guarantee a 24-hours supply of 220 Volt electricity throughout the ship.
The history of the Iris
The Iris was launched in The Netherlands in 1916. She was built as a fishing boat and launched as the "Pallas". In that year as a herring-lugger she made five voyages to the Shetland Islands north of Scotland bringing home no less than 1683 barrels of herring! Sailing-luggers are the fastest and most reliable ships to sail the waters of the North Sea.
After 1920 fishing by means of sail was becoming no longer economically feasible. The Pallas was sold to Swedish owners and was modified for coastal trading. She sailed the Baltic Sea successfully until 1975 when she was sold back to Holland . For the next 25 years she sailed as "Geesje van Urk" offering cruises and management training. Voyages included sailing as far north as the Lofoten Islands and the North Cape.
In 2001 the ship was sold to the present owners and cruises were offered in The Netherlands, British, Irish and French waters. Homeport of the Iris is the beautiful Veerhaven in the centre of Rotterdam, where traditional sailing vessels gather offering a breathtaking view of modern architecture and traditional naval activities.
From her homeport Rotterdam IRIS cruises all over NW Europe offering sailing holidays, day sails, corporate events and she is a regular guest at the major maritime festivals. The traditional appearance and historical importance of the ship are perfectly balanced with the modern demands of comfort and safety. IRIS is fast, exceptionally seaworthy, and certainly deserves her name. IRIS, she who travels with the wind.
Would you like to sail along with the
Iris ?
Explore some of our sailing cruises