s/v Rembrandt van Rijn
Spitsbergen , Greenland and Iceland
Perfect for expedition cruises to remote islands
The ship is ideal for expedition cruises to Arctic islands and for whale safaris. It offers a lot of deck space with good viewing possibilities, also under sail. 
Comfort and features
The Rembrandt van Rijn is 49.50 meters long, 7m wide and has a draft of 2.8 meters. The average speed on both engines is 6.5 knots. She is manned by an experienced crew of 12 people including 2 guides. The ship can accommodate up to 33 passengers, in 16 cabins: 1 triple cabin (with shower and toilet and porthole), six double cabins (with shower and toilet, no porthole) and 9 double cabins (with shower and toilet and porthole) .
Get out & Go ashore
Excursions are planned every day on land when the weather and ice conditions permit. The walks will take an average of 3 to 6 hours and are about unspoiled terrain, there are few hiking trails in the polar region. A flexible attitude is important on board; regularly the program and the walks are adapted to, for example, the weather conditions, the ice situation or the wishes of the passengers. Plenty of time is spent on fauna, vegetation, geography and history. On board, lectures are given or documentaries are shown.
Ages and nationalities on board
The passengers on the Rembrandt van Rijn are usually between 30 and 80 years old. The Rembrandt expeditions attract travelers from all over the world, on many trips there are travelers with different nationalities on board. They are characterized by a strong interest in nature and the desire to explore remote areas. The friendships and team spirit that develop on board are an important part of the expedition experience.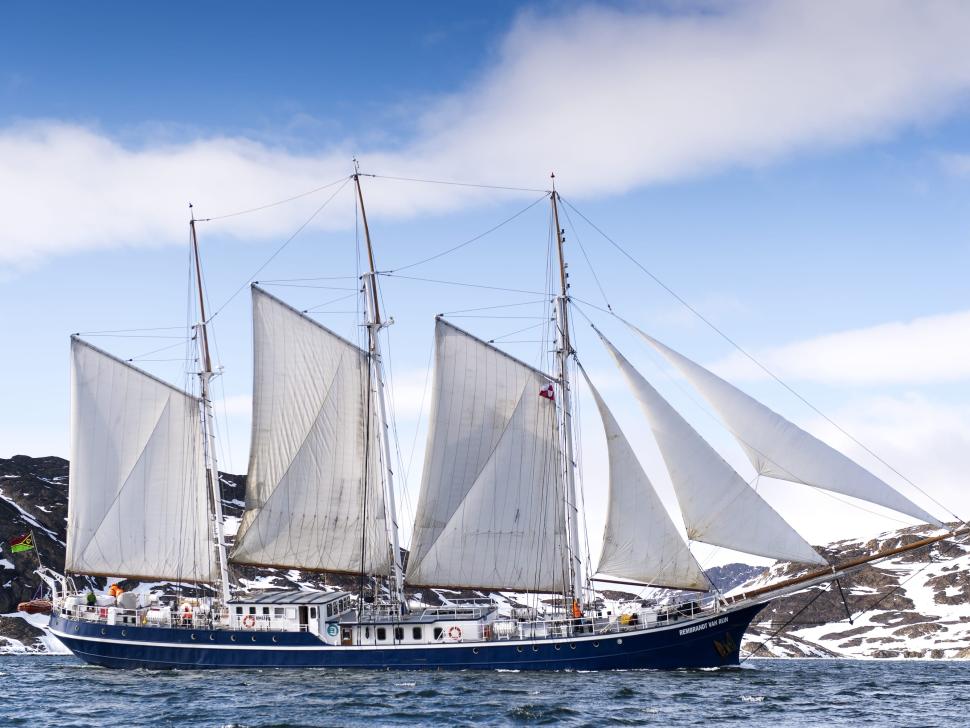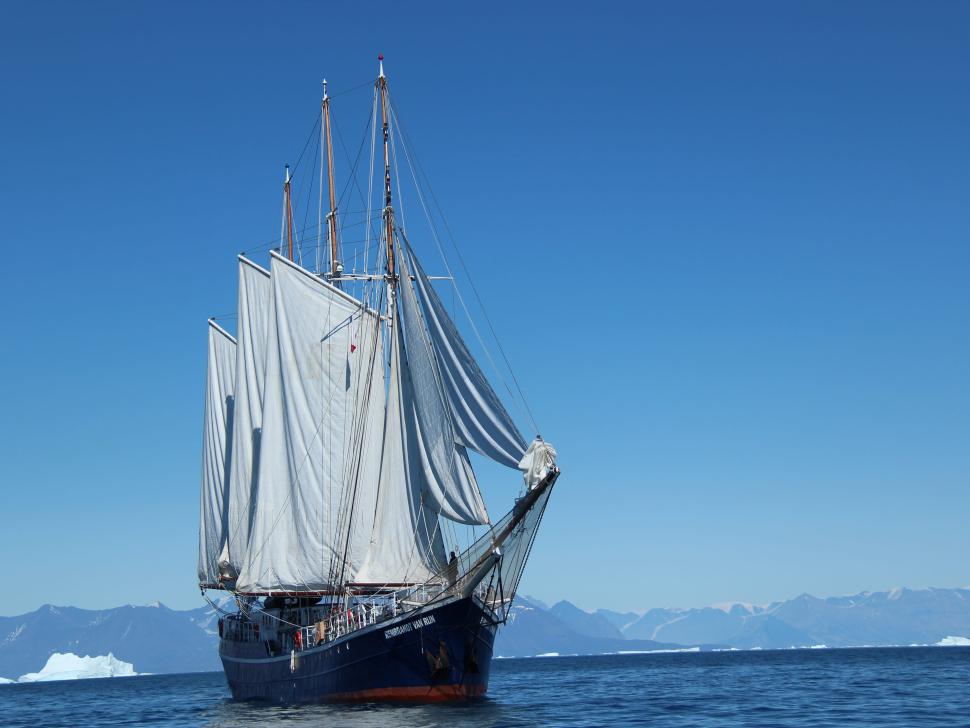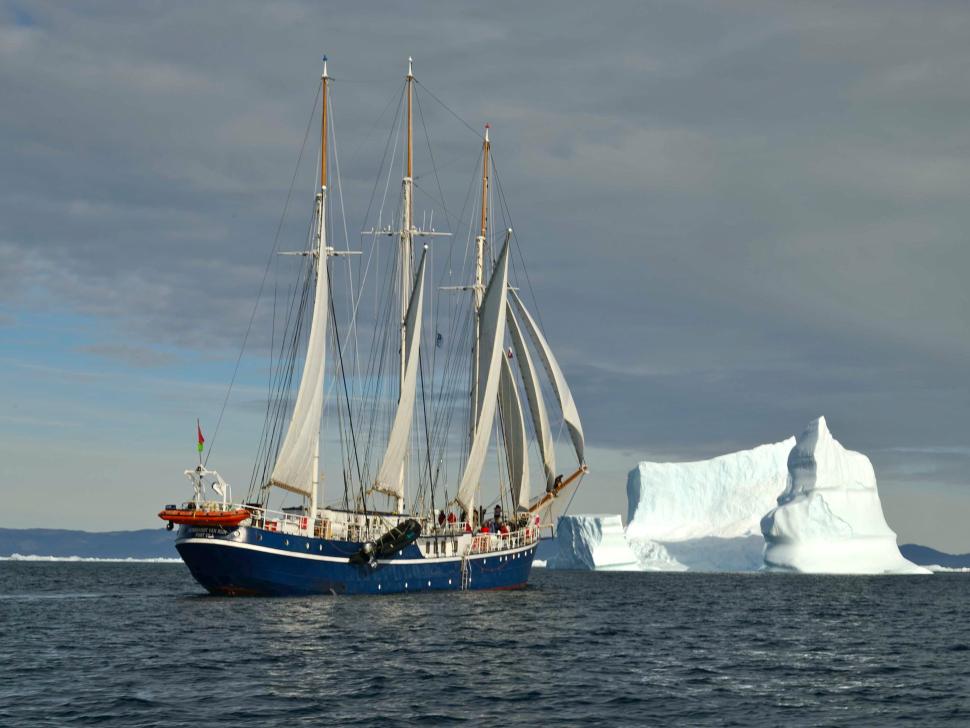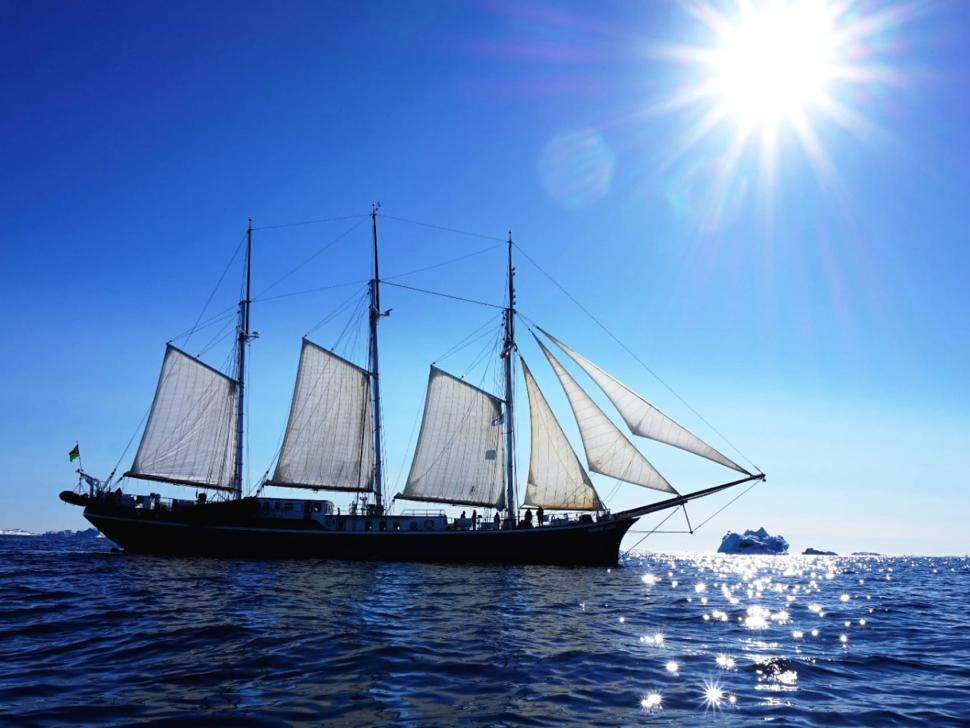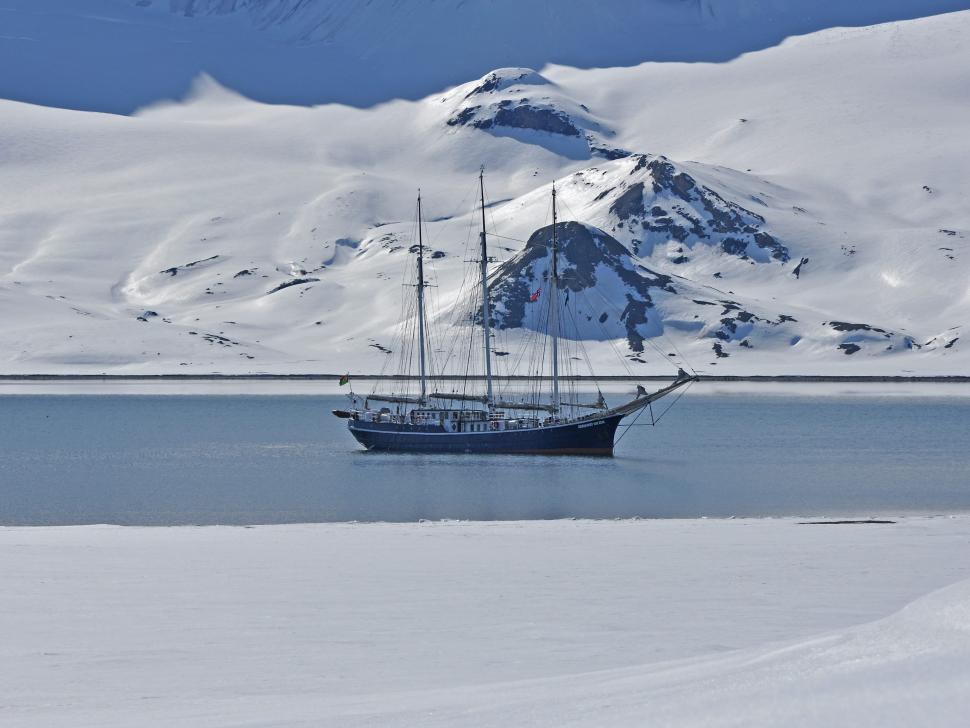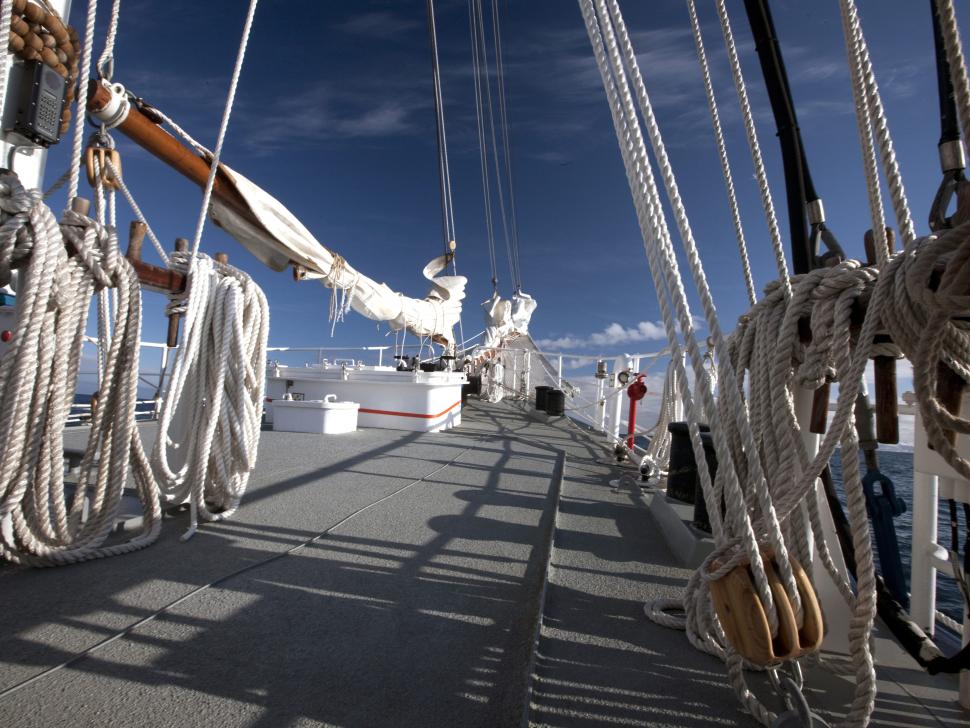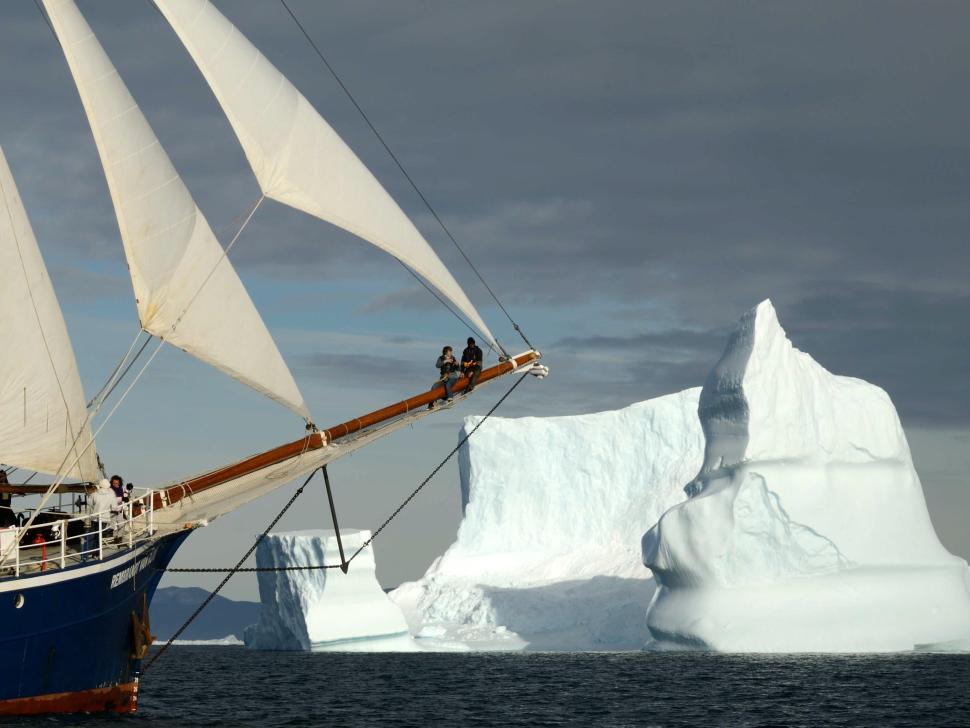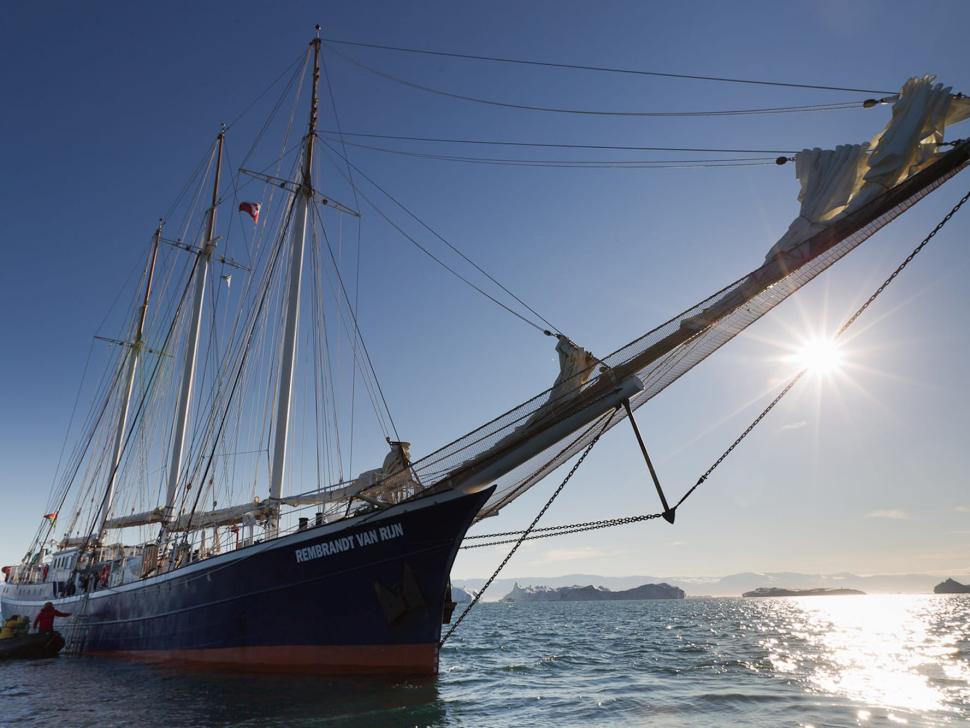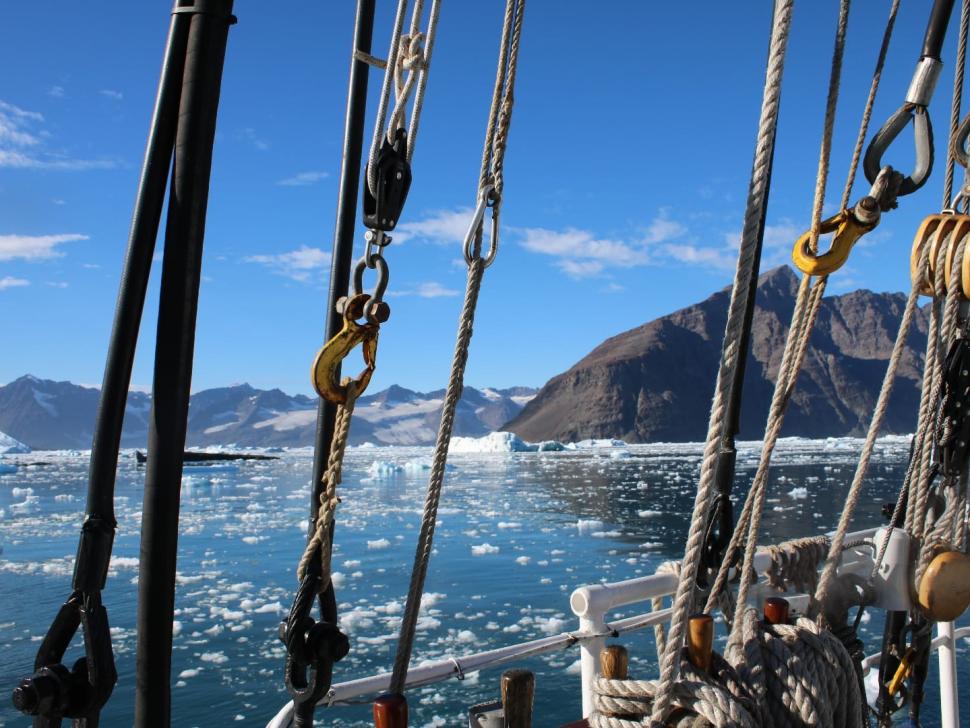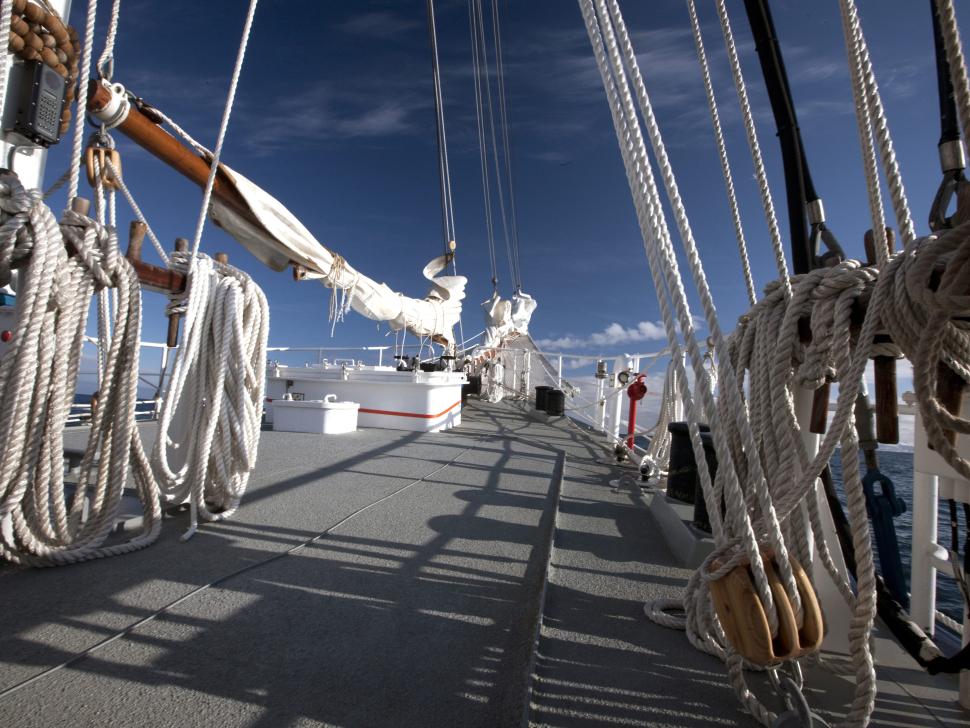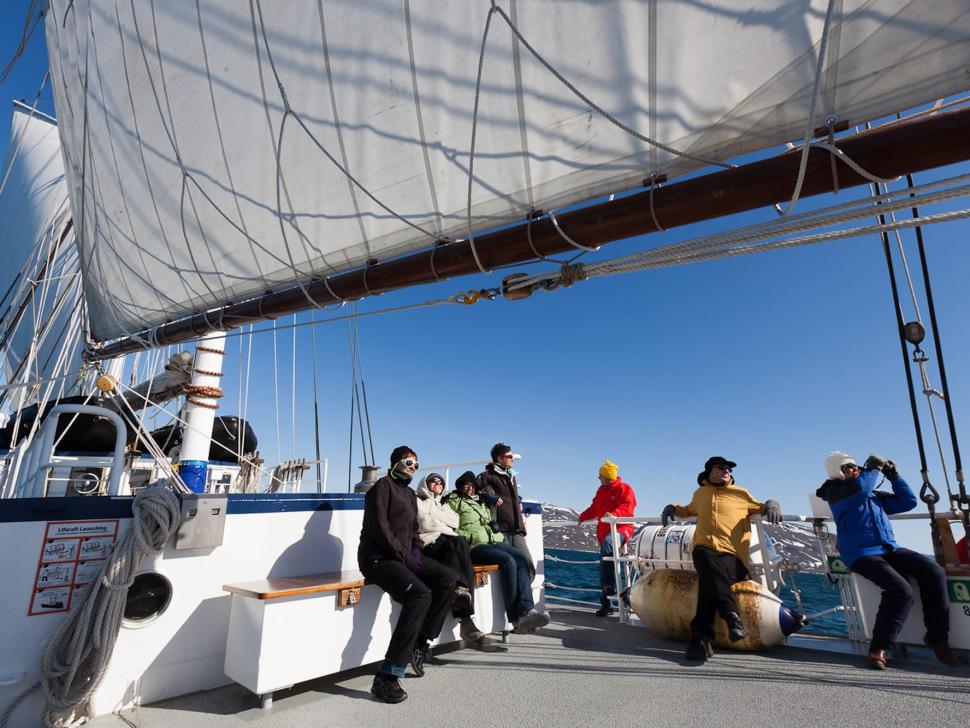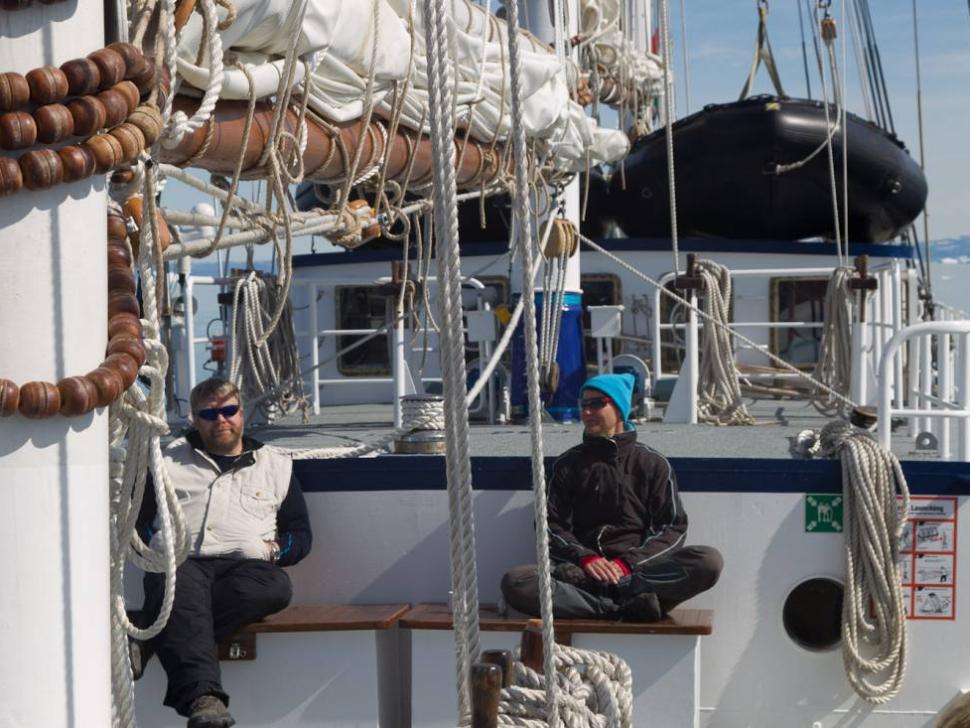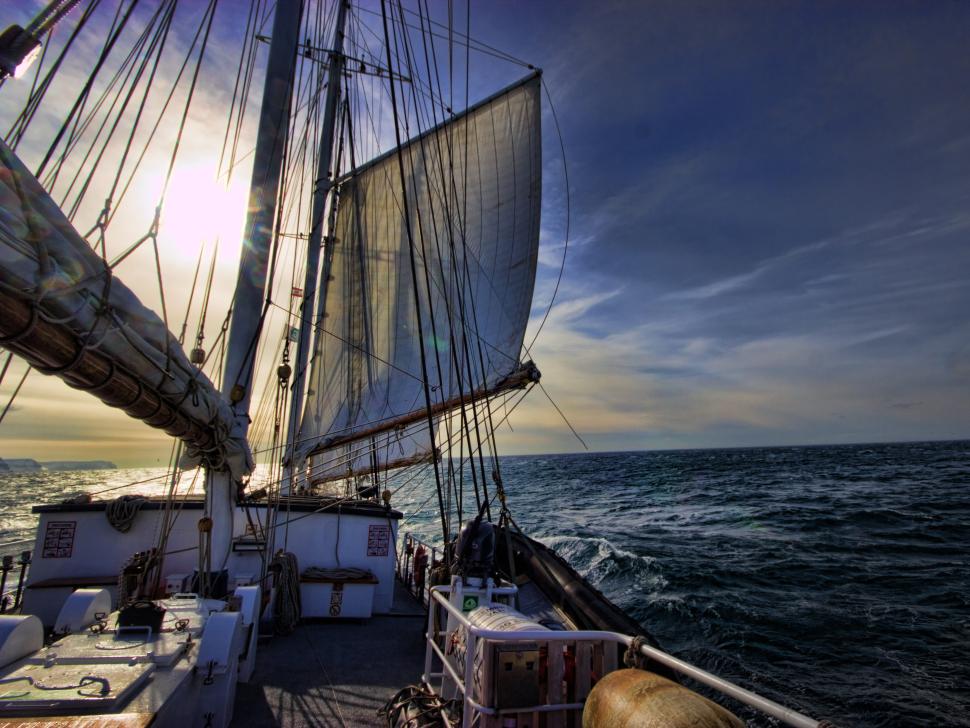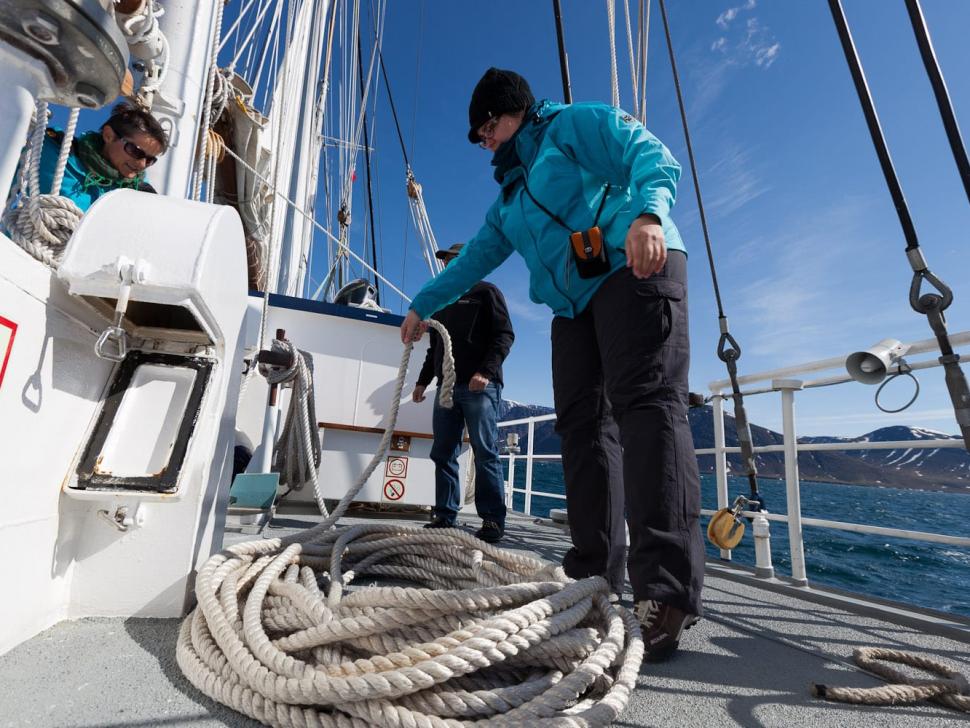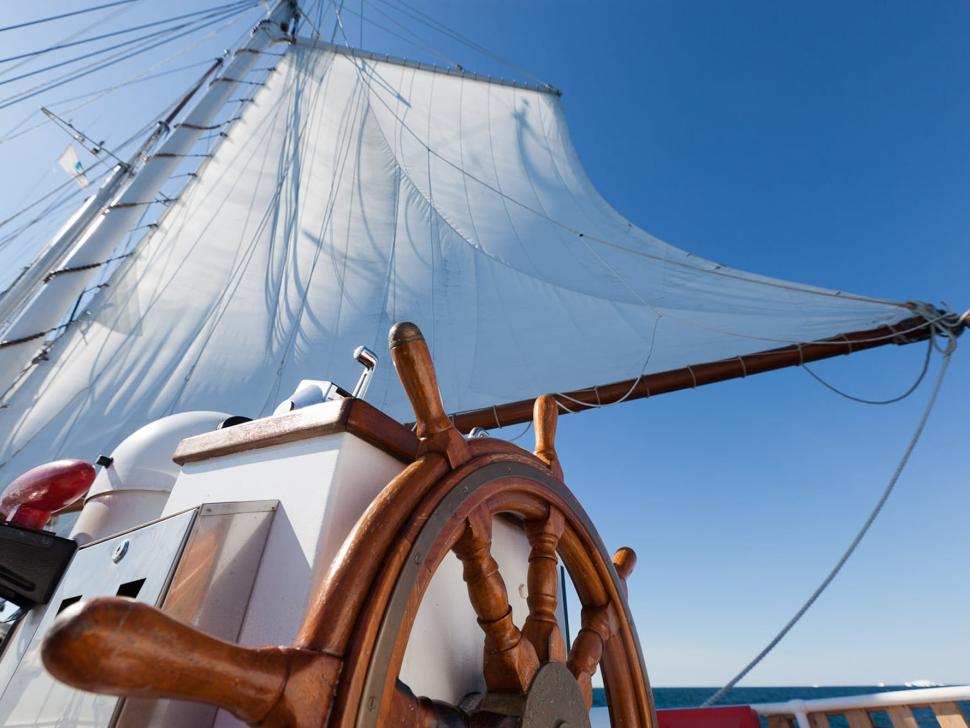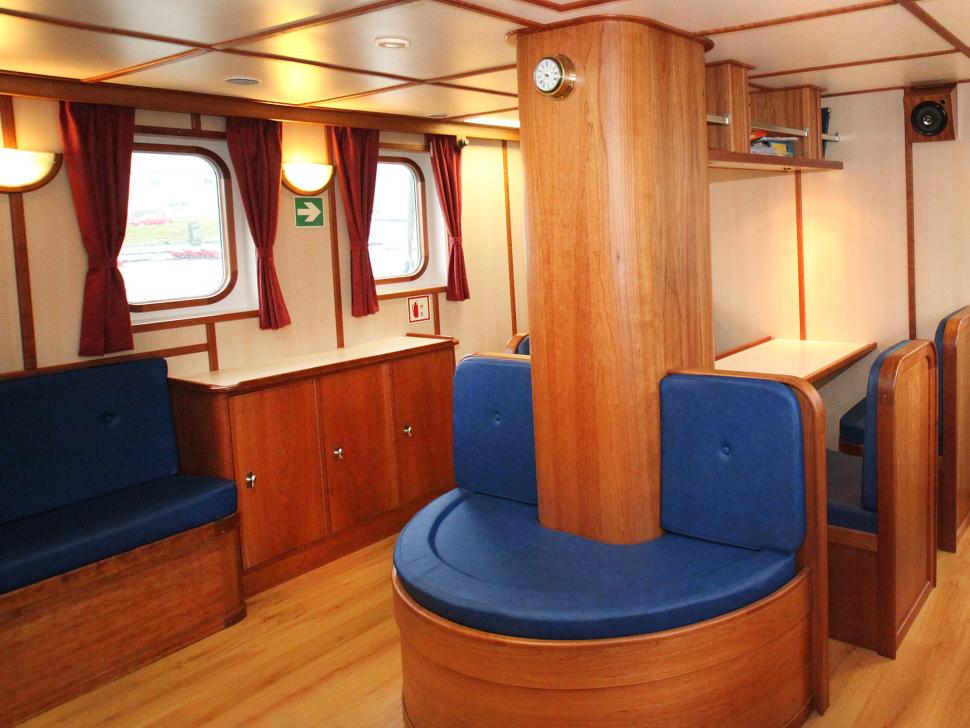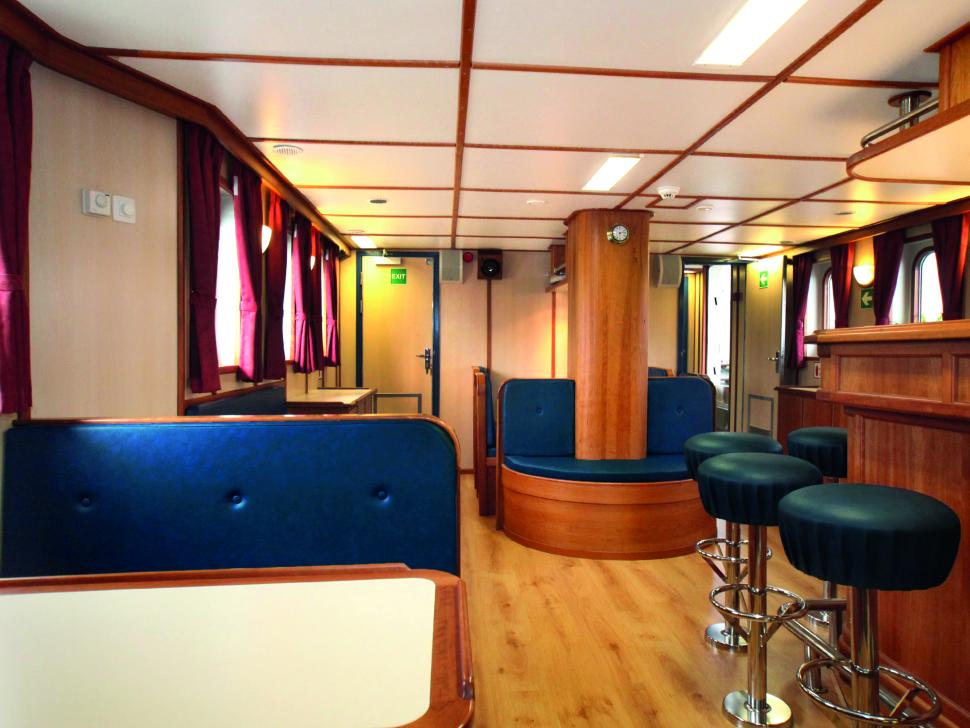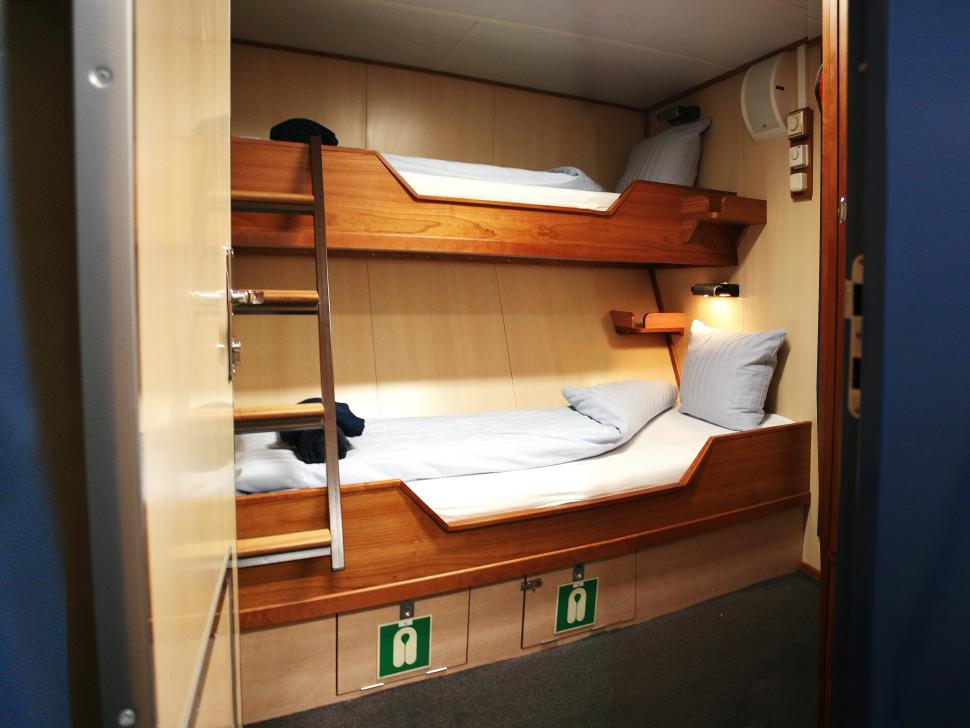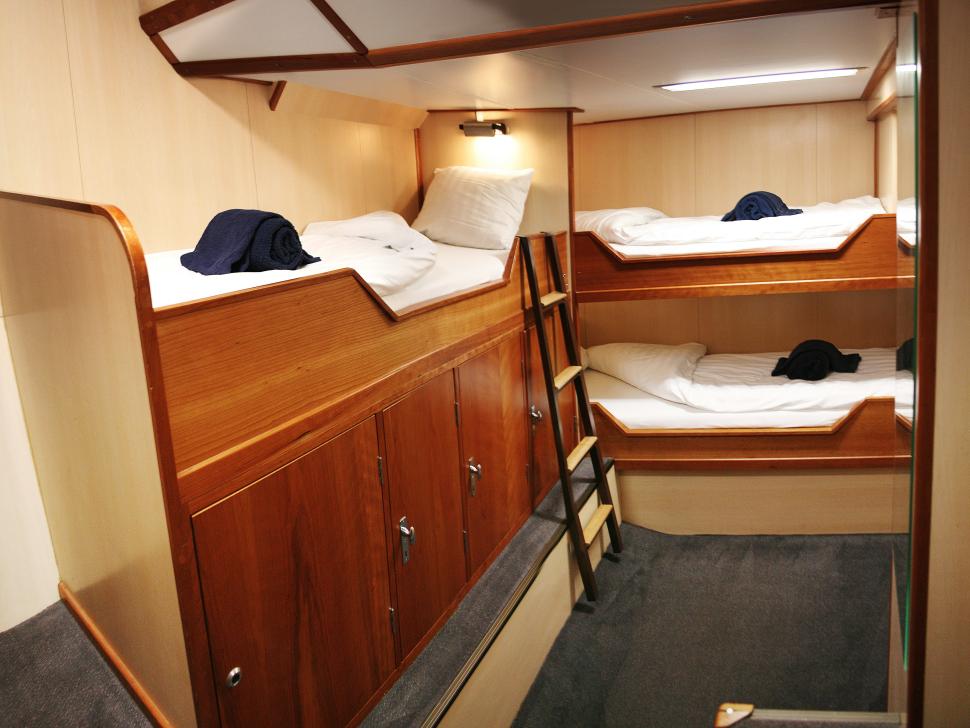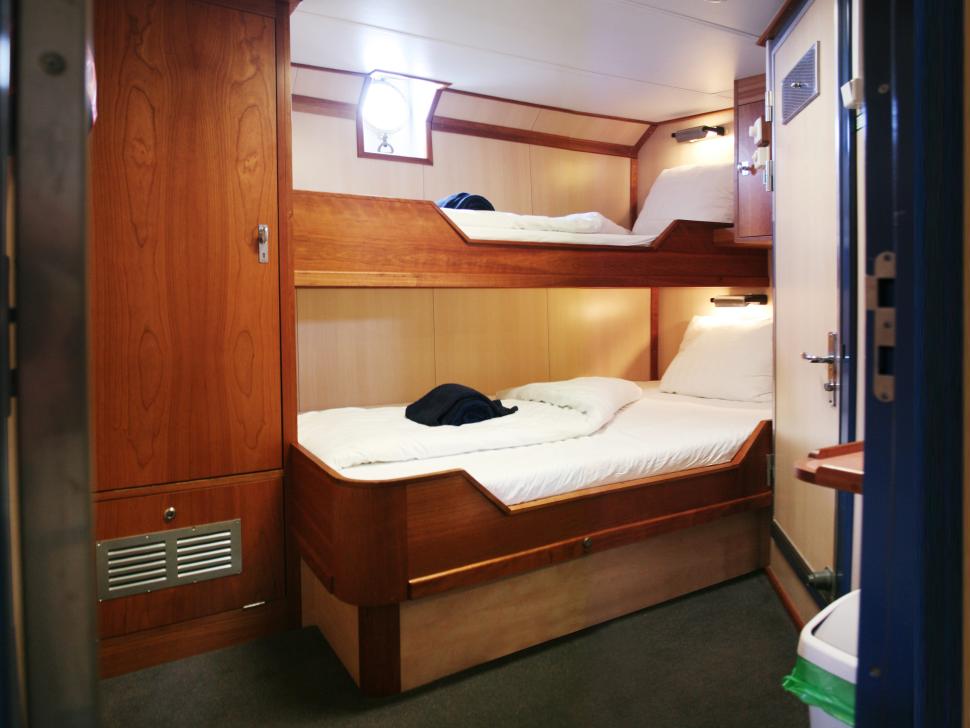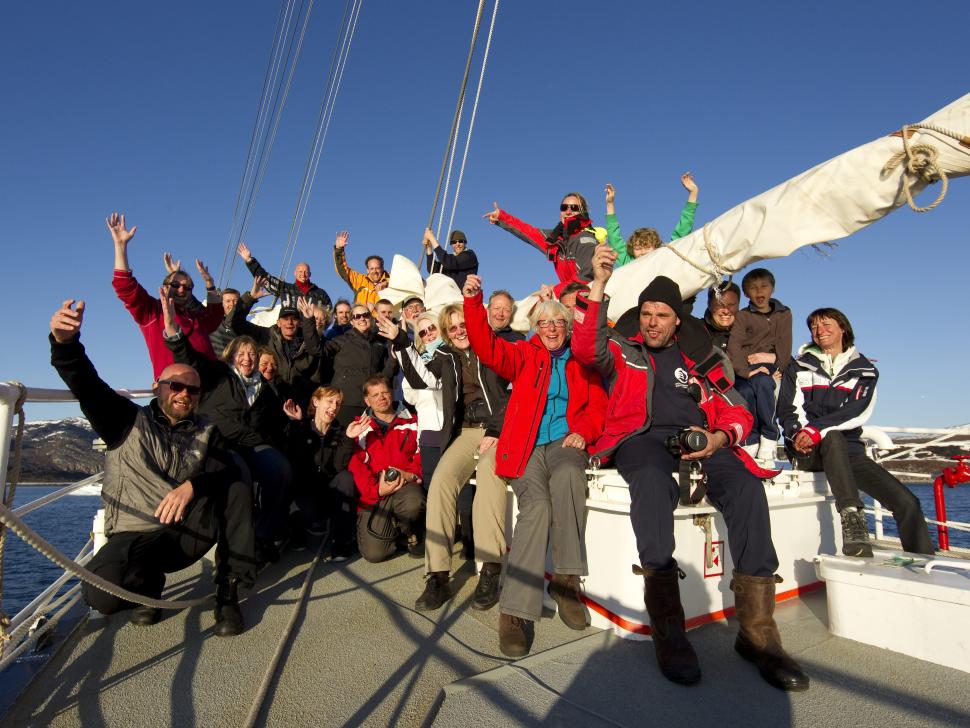 Specifications
Passengers: 33 in 16 cabins

Crew: 12

Length: 49.50 meters

Width: 6.65 meters

Draft: 2.8 meters

Ice class: The bow of the ship is reinforced and therefore suitable for sailing in the arctic waters.

Tonnage: 435 tons

Propulsion: 2 Cummins engines together 550 KW

Speed: 6.5 knots on average

Gesproken talen aan boord: English
Floorplan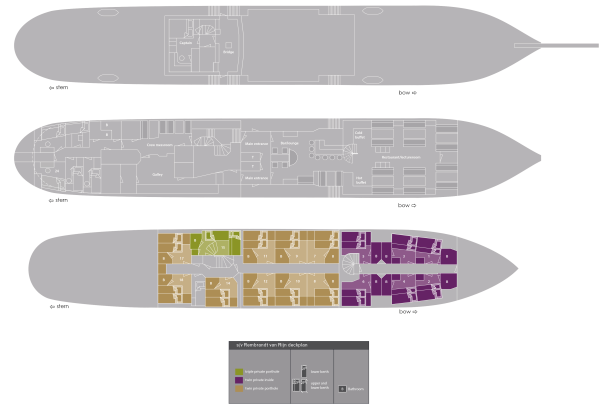 Catering
Every day three simple but good meals are made by our cook and served as a buffet in the restaurant. The cook will always try to take a specific diet into account.
The crew
The crew of the 'Rembrandt van Rijn' consists of 9 experienced crew members, 2 guides and a cook. The sailors are in charge while sailing and driving the zodiacs. While sailing, assistance from the passengers is welcome for handling the sails, but this is not mandatory.
Dress code
The passengers on board the Rembrandt are generally informal and practically dressed. Bring casual and warm outdoor clothing for all possible activities. Bear in mind that you will be outside a lot to admire the beautiful landscapes from the deck. Take a long  sturdy shoes with good grip. Wear warm clothing in several layers because it is comfortably warm inside the ship, but usually cold on deck. Slippers, Croqs or other "inside shoes" with a rubber sole are practical and comfortable to wear inside.
Tipping
The usual tip to the crew and expedition leader is usually given together at the end of the trip. Giving a tip is a very personal matter and the amount you want to give is entirely your own choice. As a general guideline, we suggest an amount of 8 to 10 US dollars per cruise day per person. We recommend giving cash Euro's, US dollars or Danish crowns.
Non-smoking policy
A non-smoking policy applies to our ships. You can smoke in the designated areas. Please respect the wishes of non-smokers.
Electricity
The electricity on board the ship is 220 volts 50hz. The sockets are the standard European model with two thick round pins. American passengers need a 220V / 110V inverter.
Your physical condition
You must have good health and a reasonable physical condition, and be able to walk 3 to 4 hours per landing. Although we often sail to follow the planned route, we want to spend as much time as possible on land. You are free to remain on board the ship during a landing, for example when landings are too tiring or heavy. In the polar regions there are few or no ports or quays to moor. To land on the remote beaches or rocky coasts we use 2 zodiacs, stable rubber boats. To participate in the landings per zodiac, you must be able to descend from the ship by a short ladder about 1 meter into the zodiac. The crew will assist you with this. This will improve after a few times. It can be smooth and rocky on land. You are traveling in a remote area, without access to advanced medical facilities, so you can not participate in these expedition journeys if you have a life-threatening condition or if you need daily medical care.
History
The s / v 'Rembrandt van Rijn was built at the beginning of the last century as Haring logger. The ship was rebuilt in 1994 in the Netherlands to a three-masted passenger schooner and has previously sailed on Spitsbergen (1994 - 1996) and the Galapagos (1998 - 2001). The ship was completely renovated in 2011.
Would you like to sail along with the
s/v Rembrandt van Rijn ?
Explore some of our sailing cruises