Florette
Mediterranean Sea
TRADITION
Florette is a beautiful example of family tradition. This is the 2nd generation of the Haynes family that shares Florette's joy with guest. Together they are the perfect ingredients for an unforgettable holiday experience. Florette is a wooden brigantine with excellent sailing characteristiscs.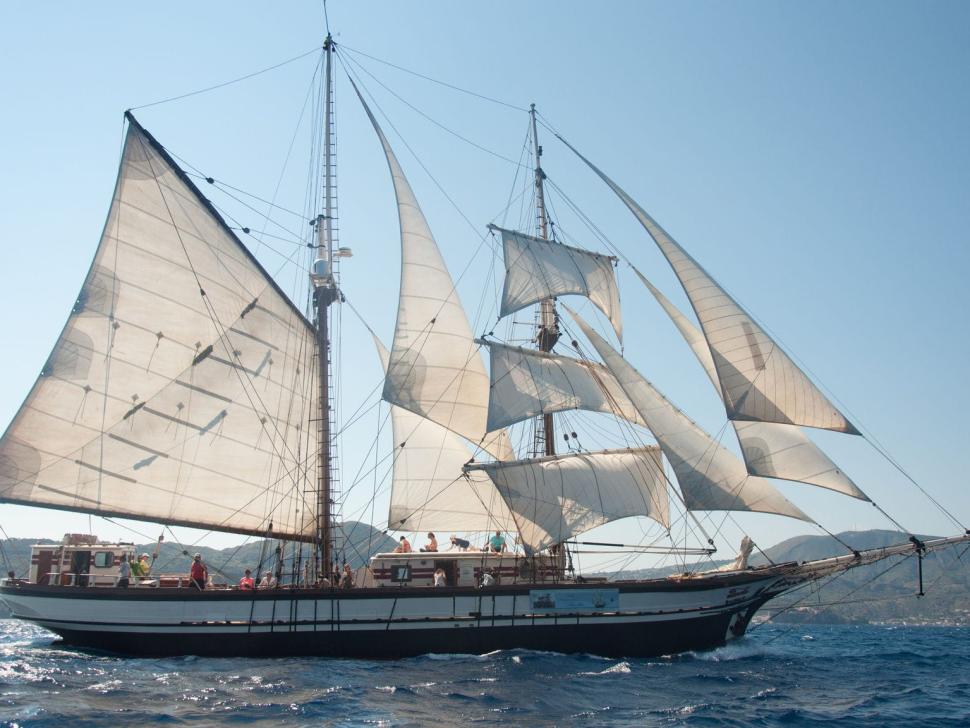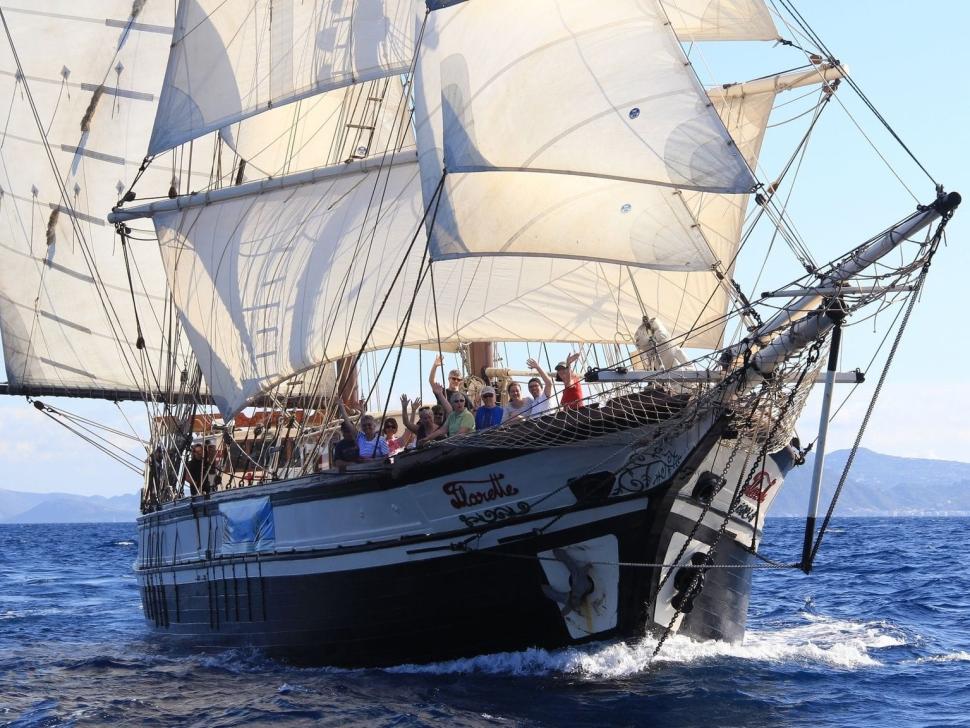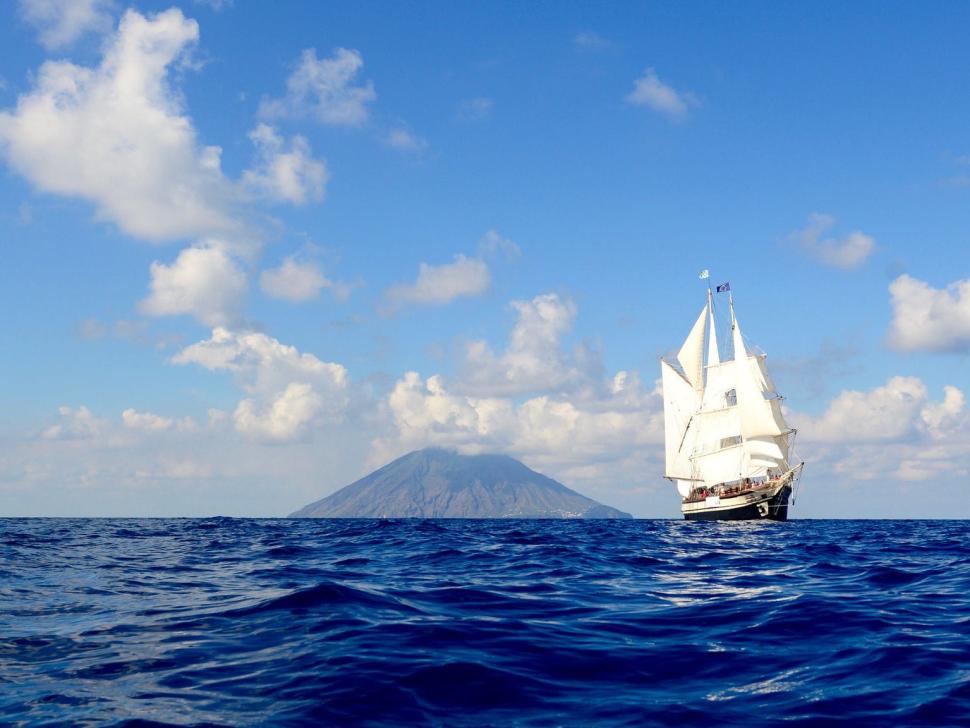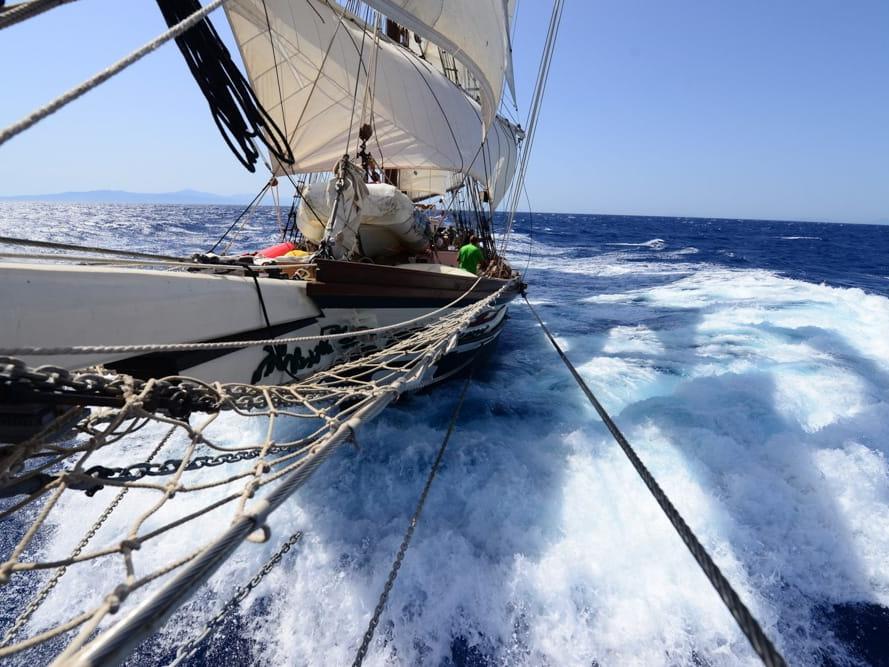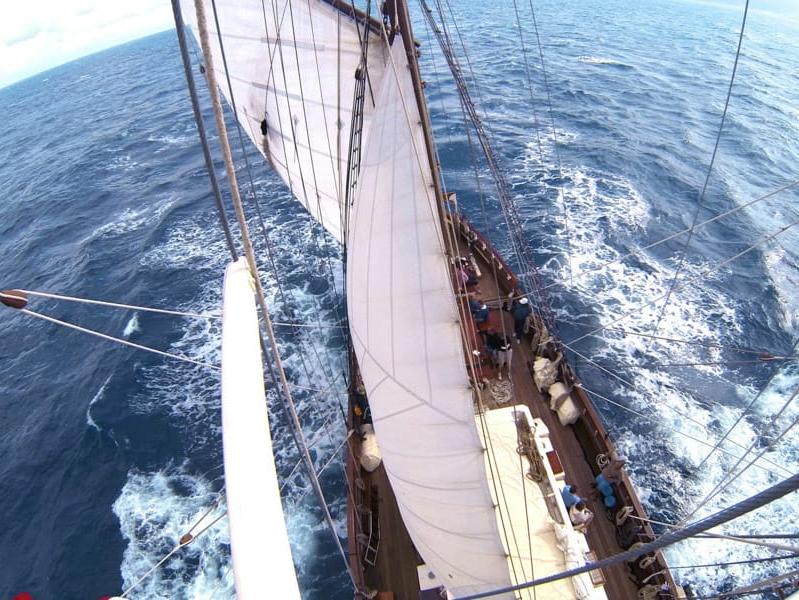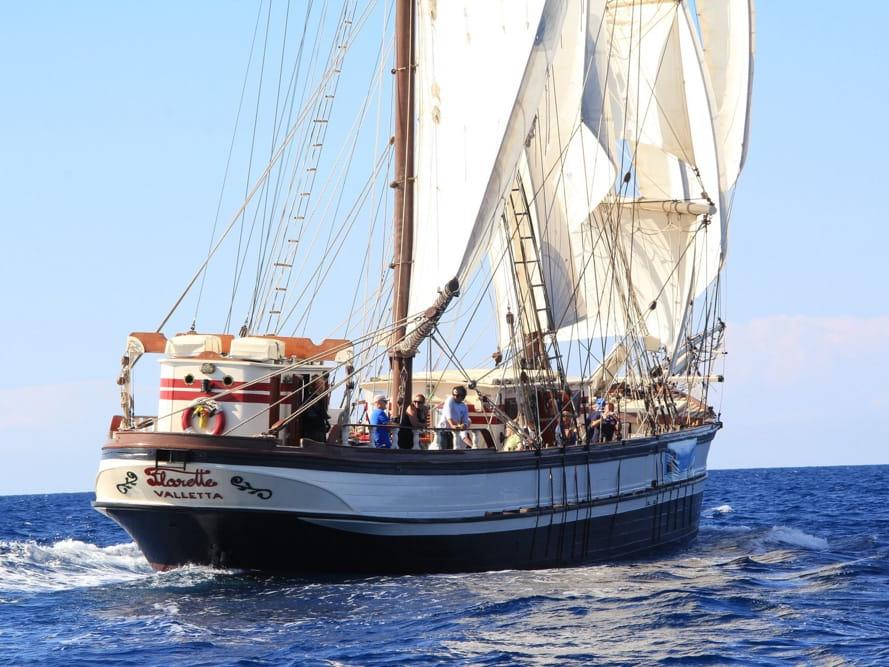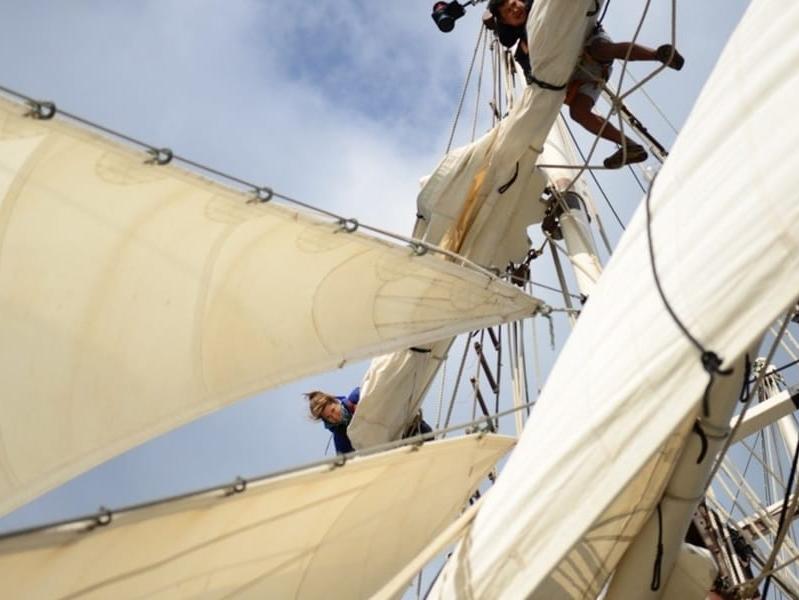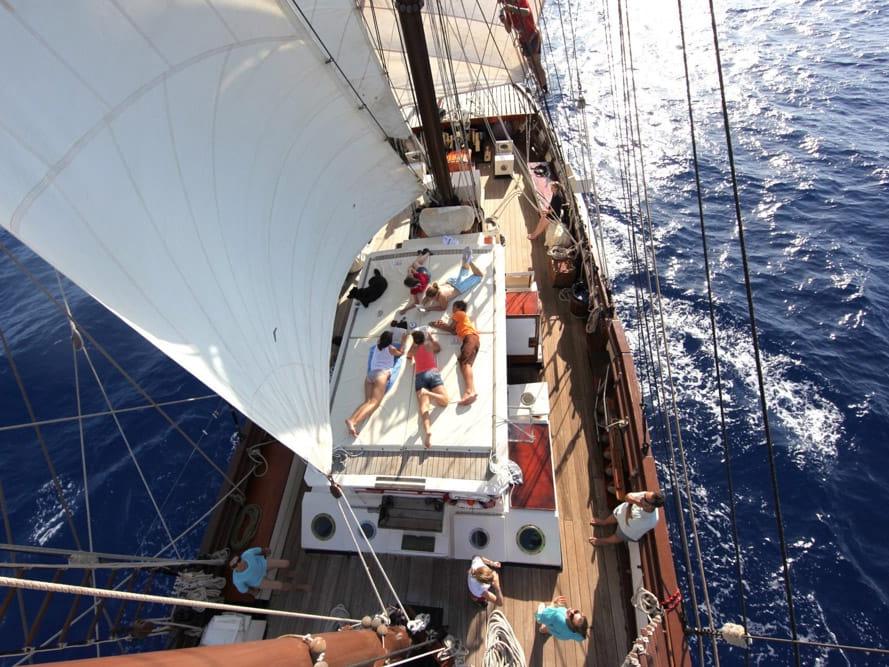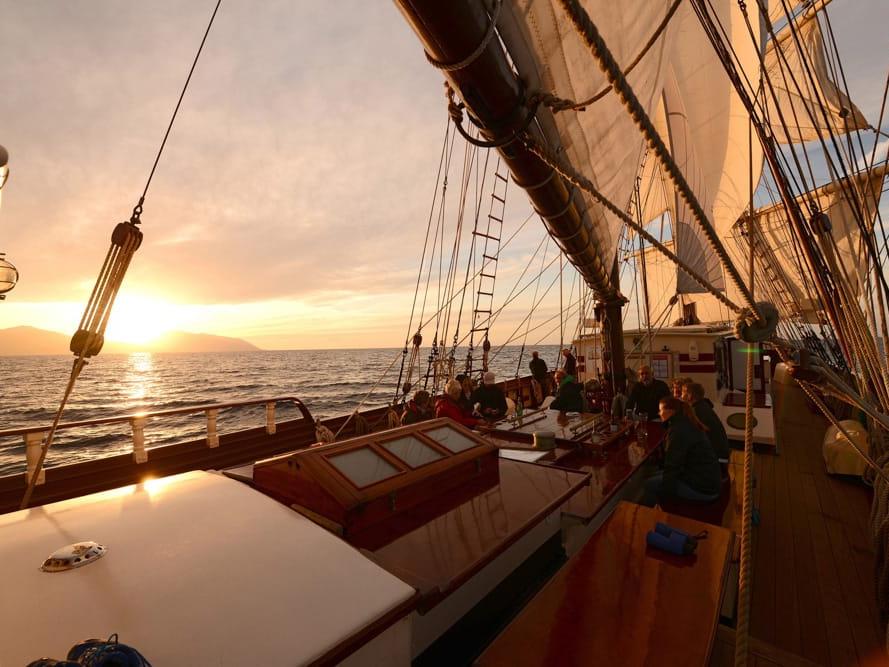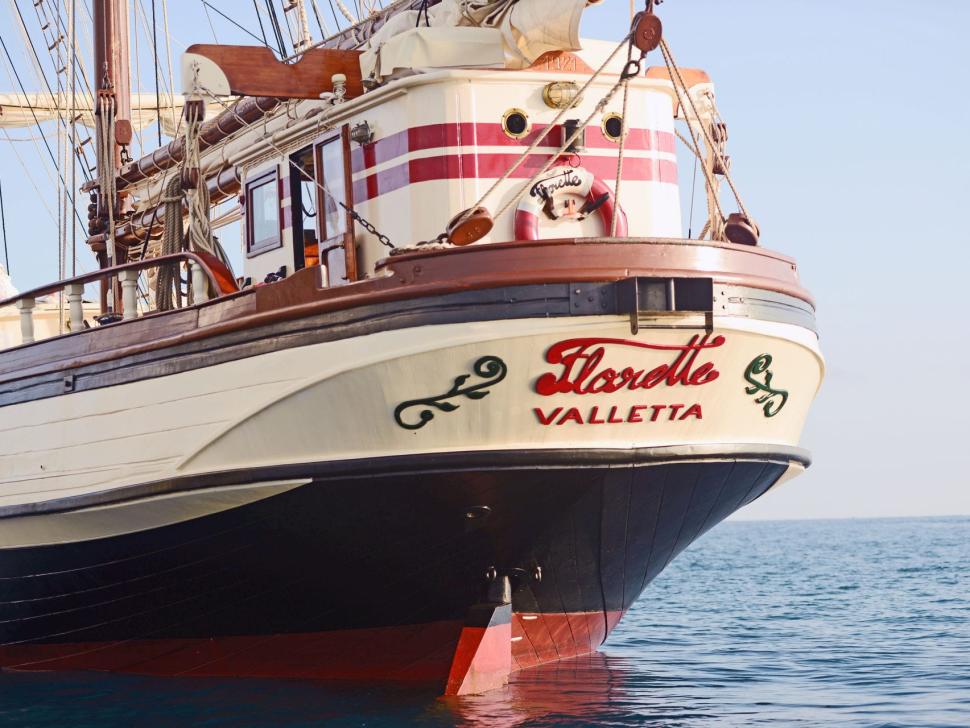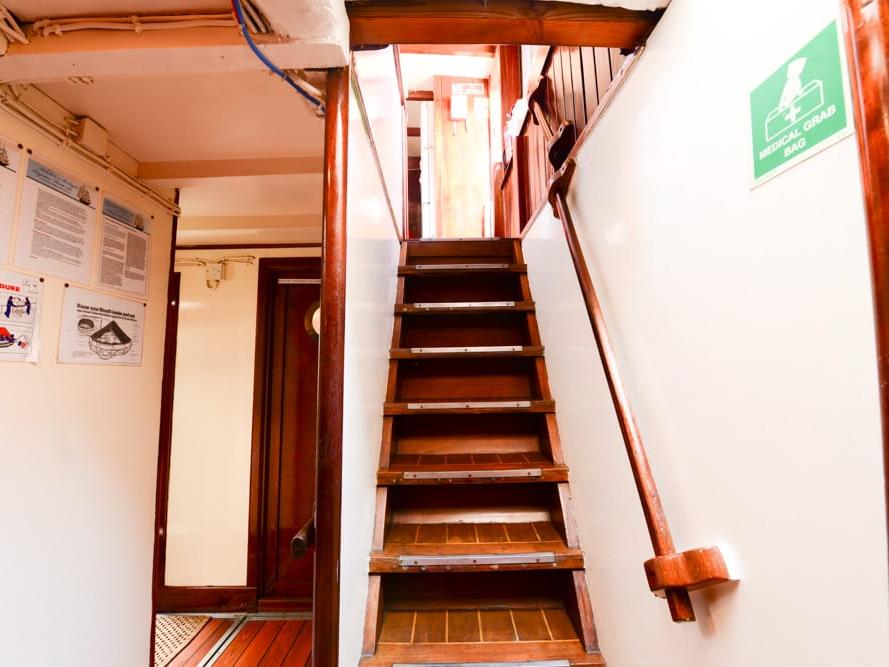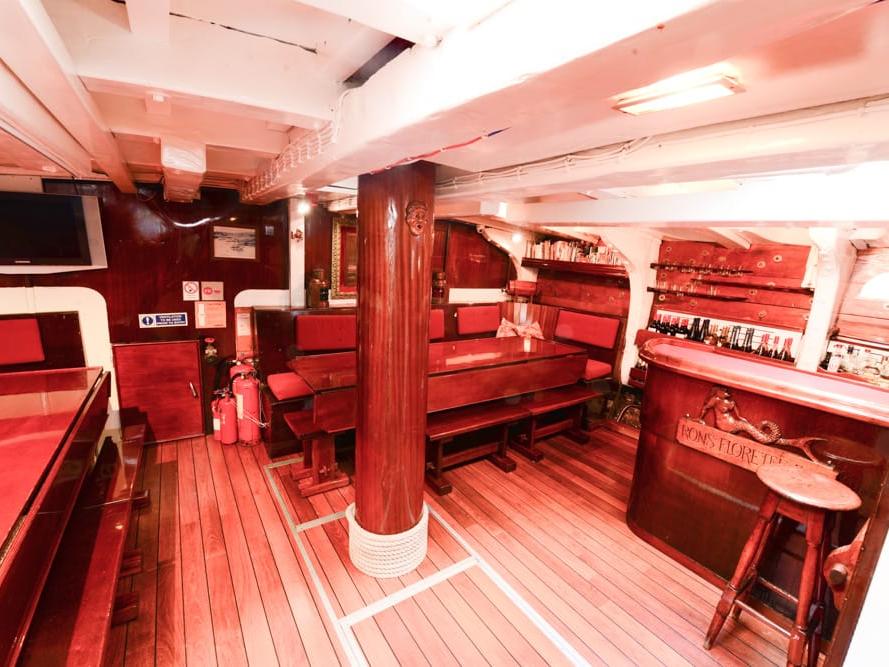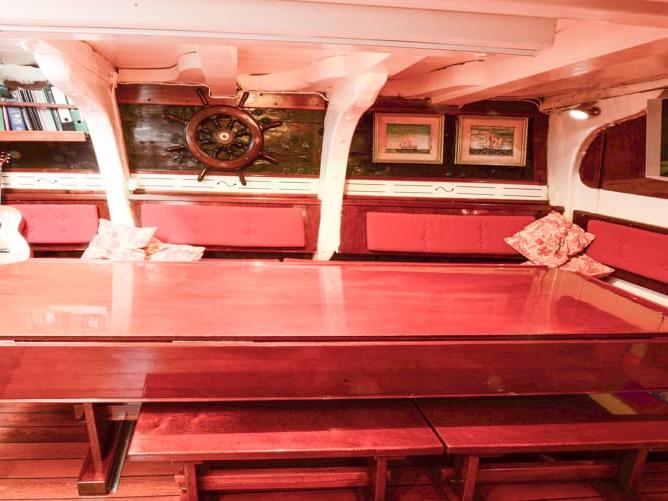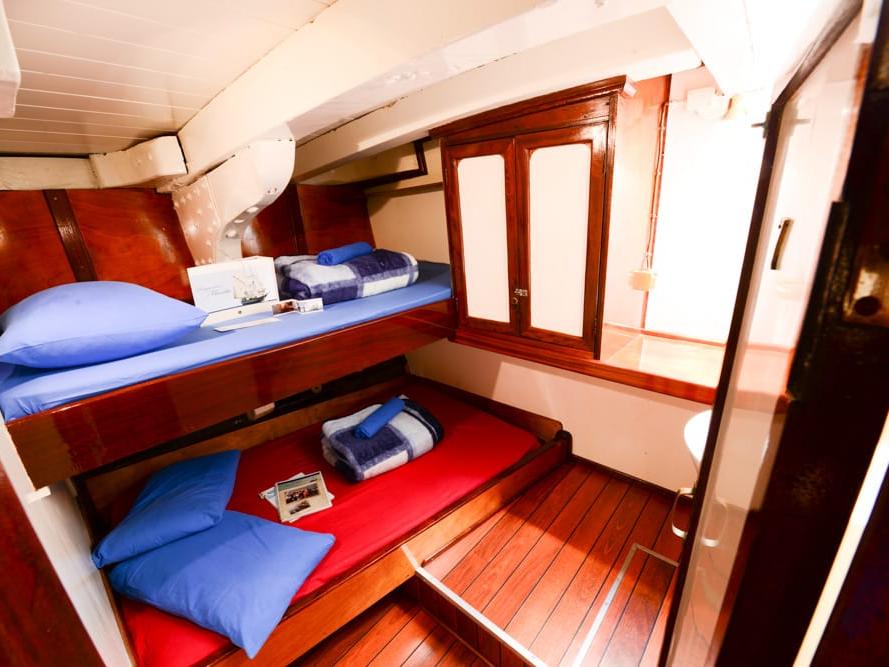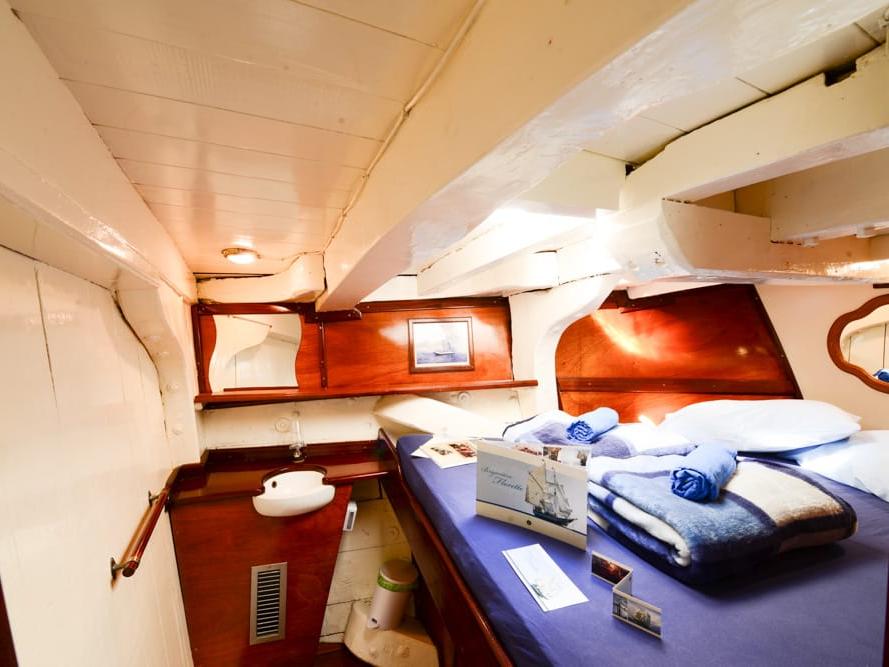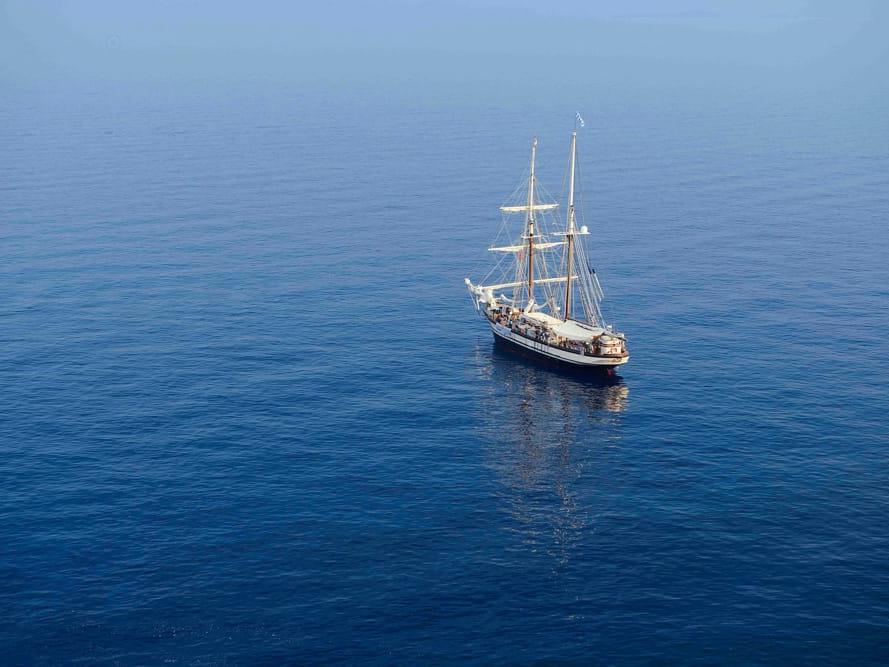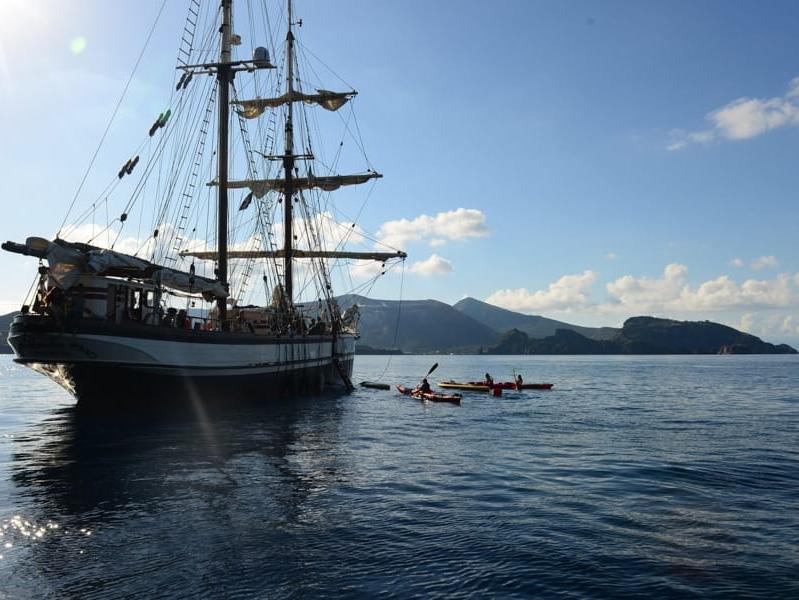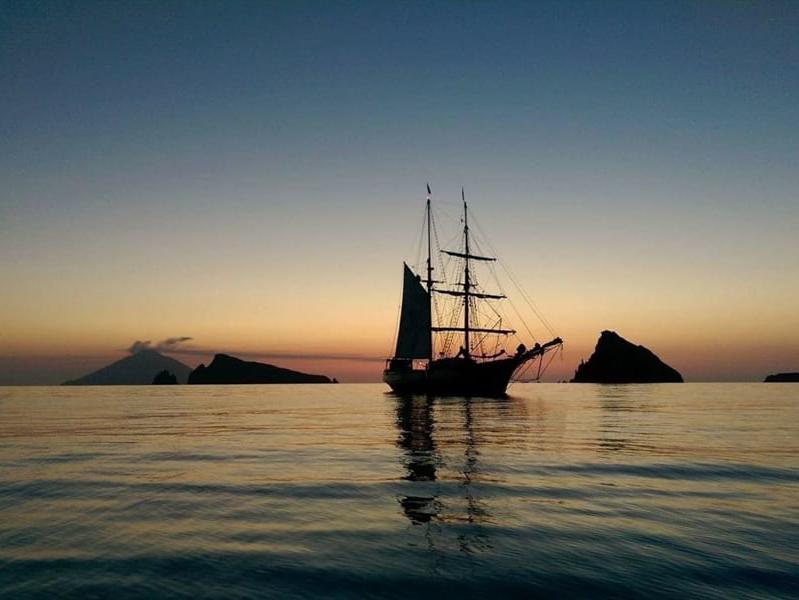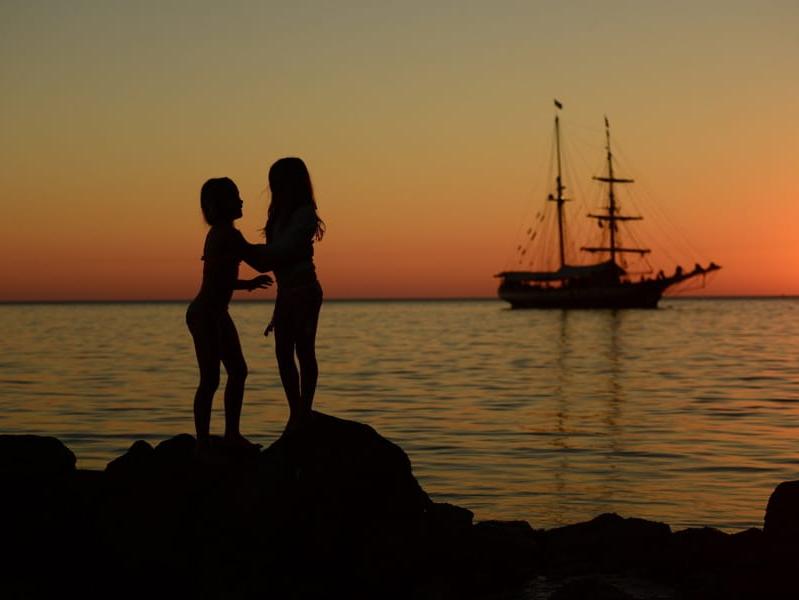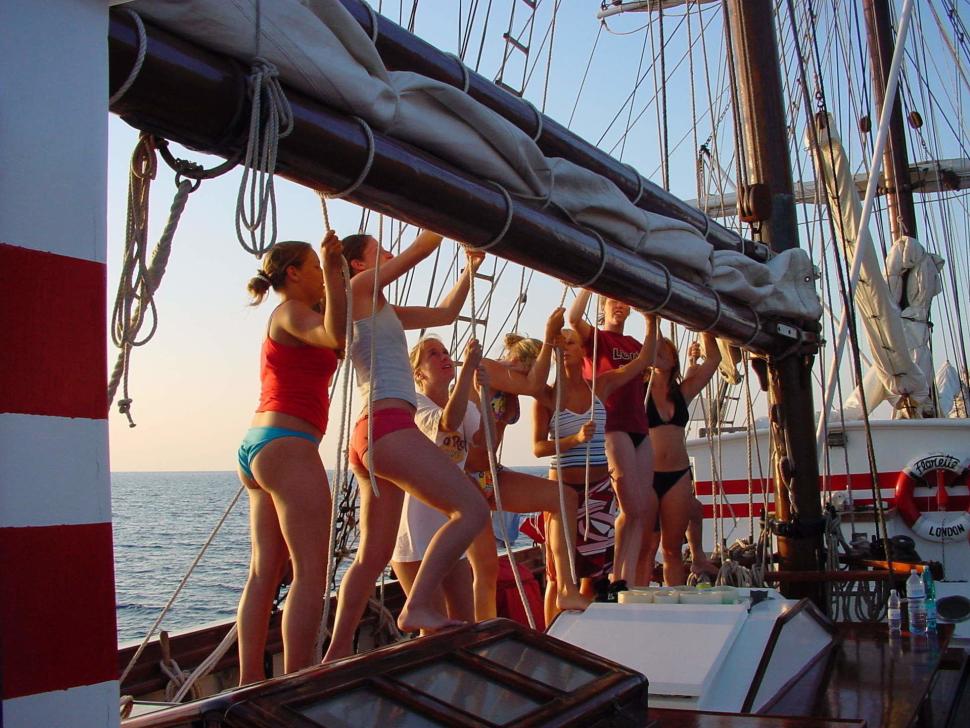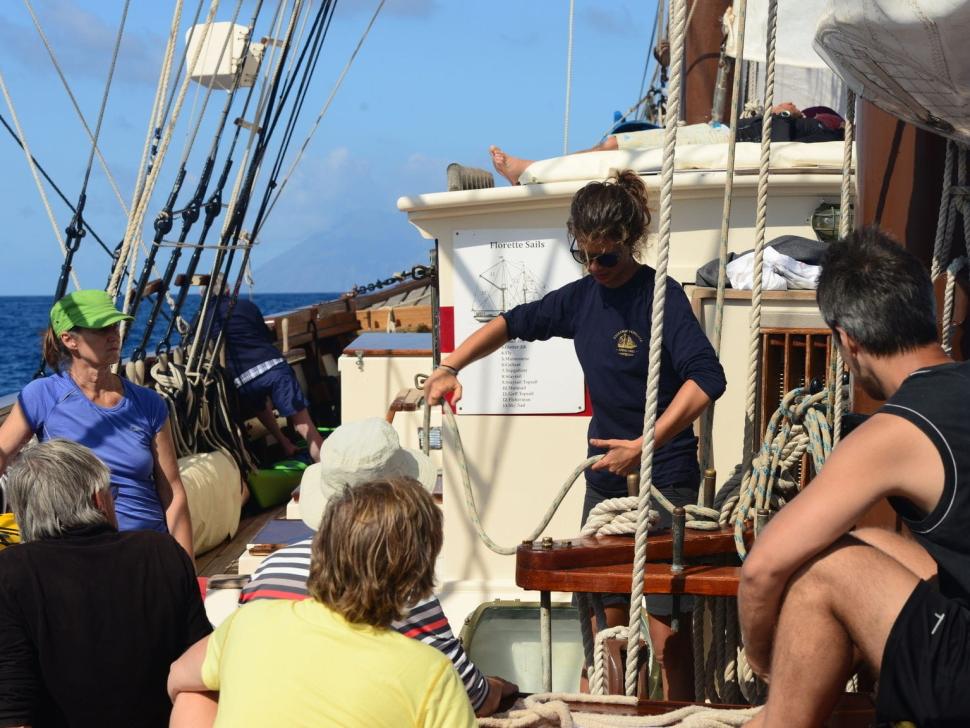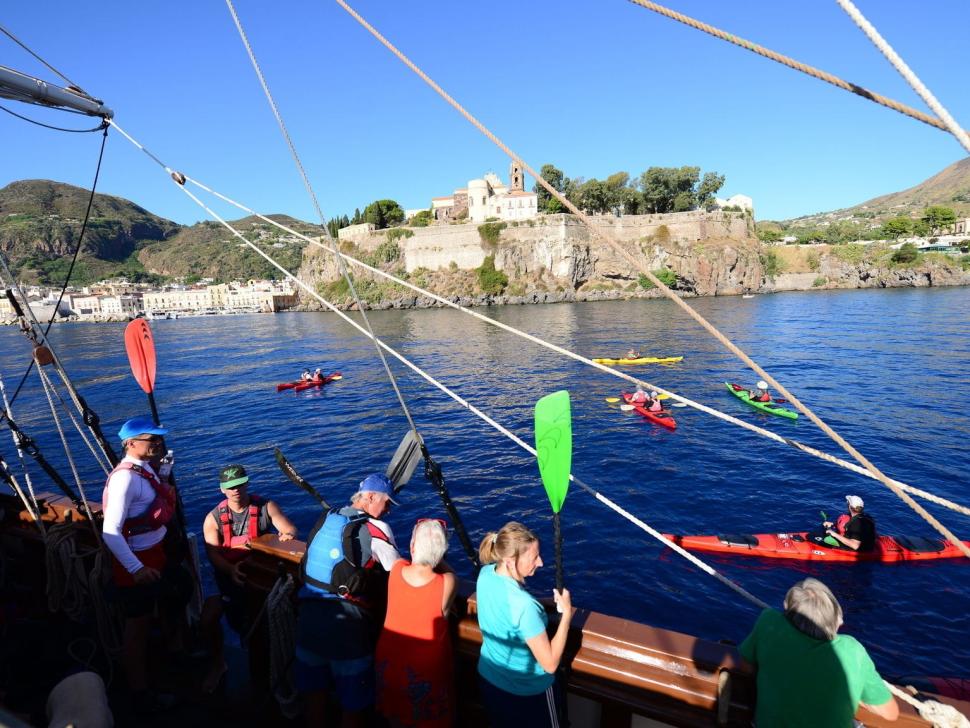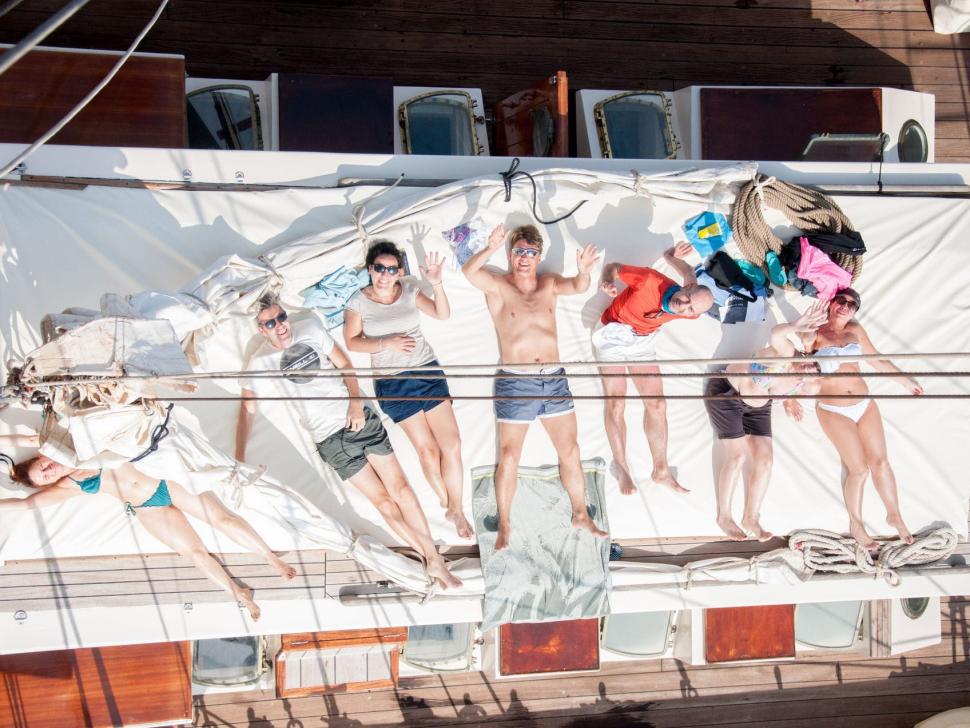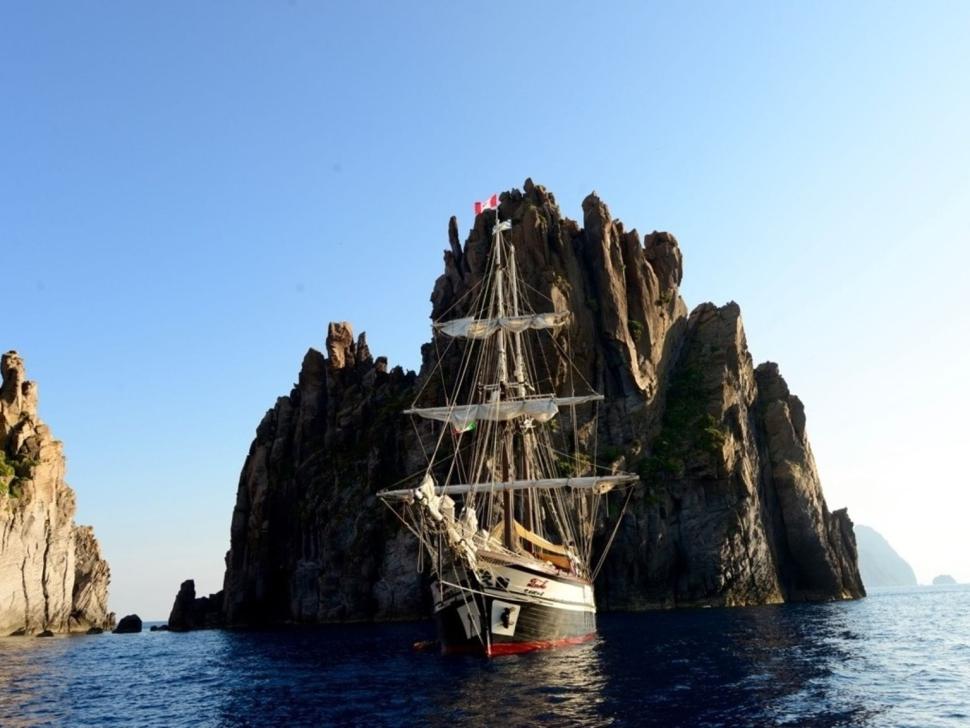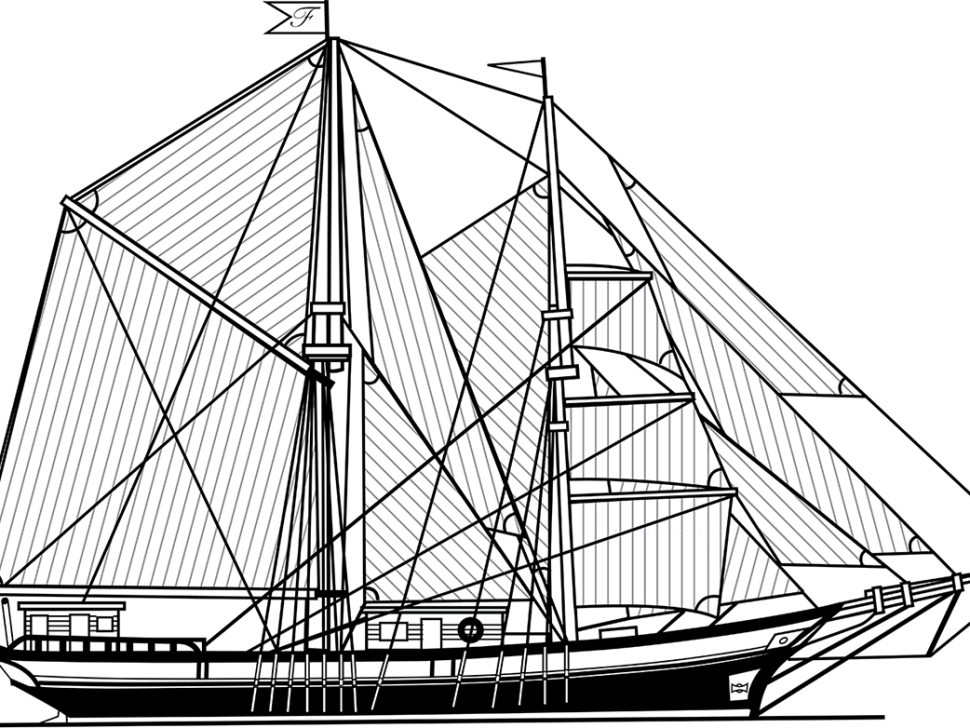 Specifications
°1921
Length over all: 40m
Beam: 7.20m 
Draft: 3.20m 
Mast height: 28m from deck 
Displacement: 186 tons   
140m2 main and sun deck
Sail surface total: 550-650 m2,
Original brigantine rigging, traditional method, no winch!
Maximum speed under sail12 kts and with engine 8 kts     
Crew: Haynes Family- 6 full time crew members
36 maximum crew/trainees 
Gesproken talen aan boord: German, English
Floorplan

BELOW DECK
An old wooden lady... Some people say that they can feel her heartbeat.
A wooden ship charms with its acoustics.
We have charm
You will have something to tell your friends about. You will be particularly impressed by the cozy picture-book saloon on-board. Here, you can browse through the small library which includes good old fashioned guide books and maps. The many memorabilia and old photos also have volumes to tell. Countless guests have spent hours together here and shared their own stories. 
The sanitary facilities certainly take some time getting used to. On a ship they are called "heads" not bathrooms and we pump, not flush. Certainly one of the many unforgettable impressions that this nostalgic ship leaves behind.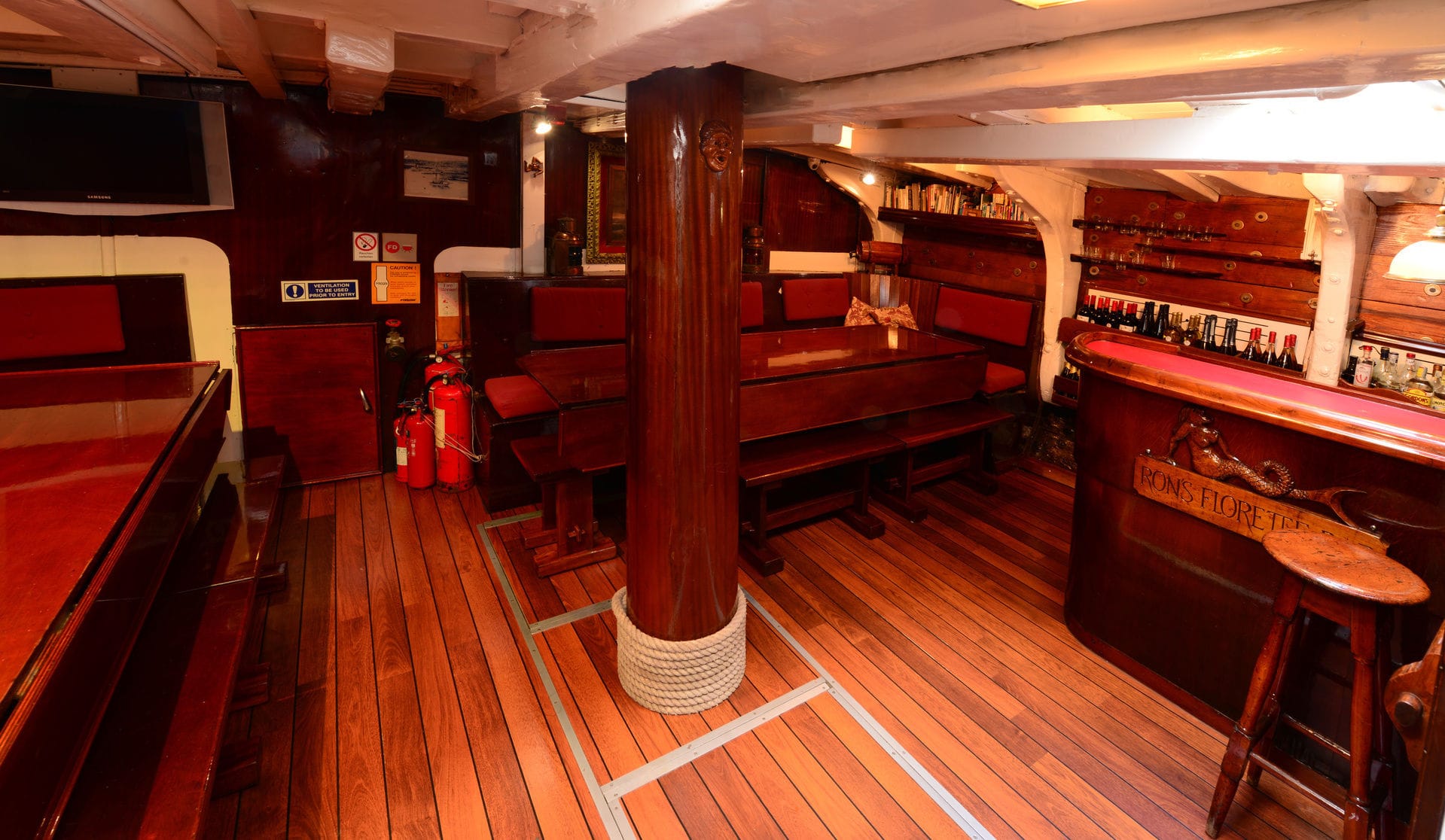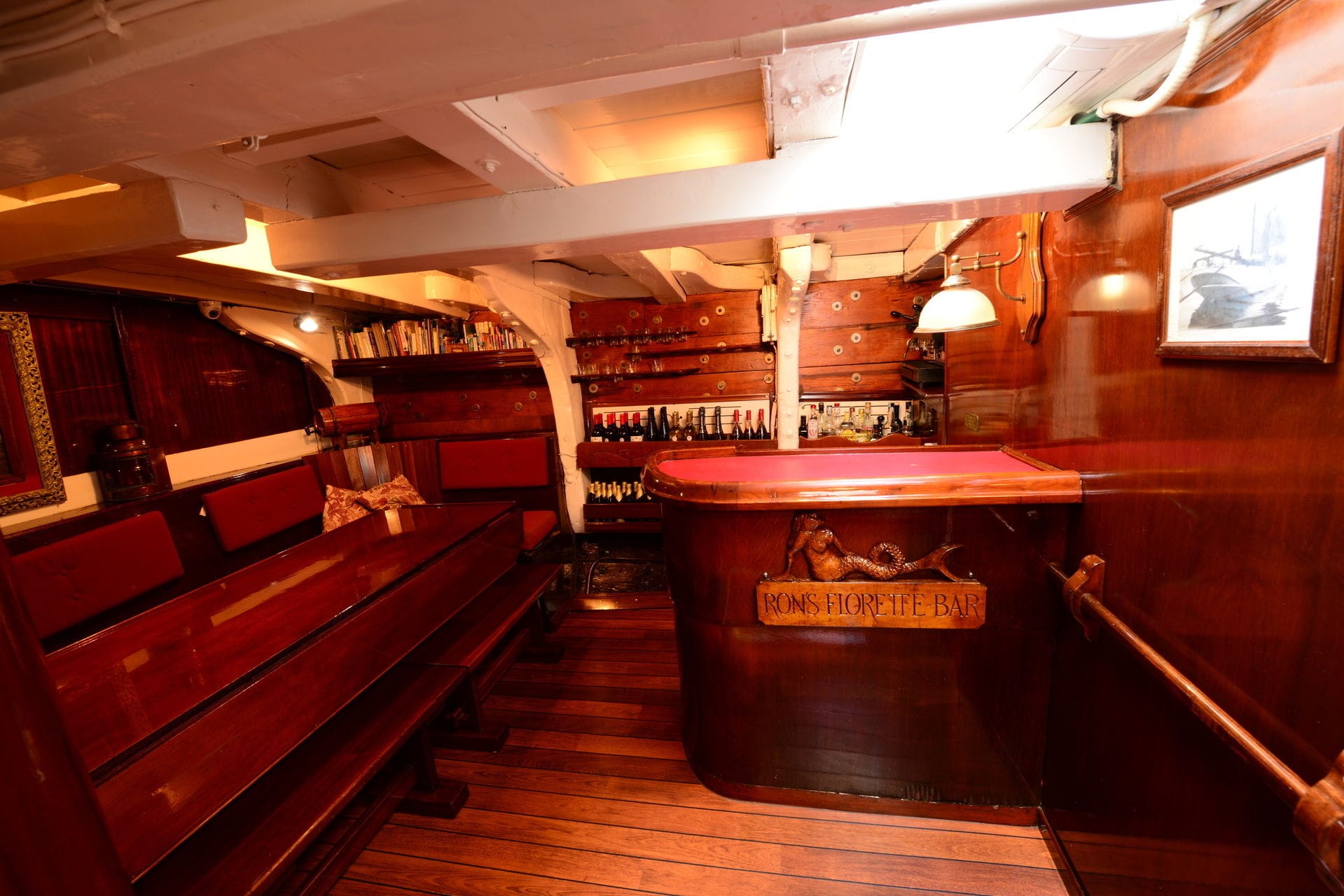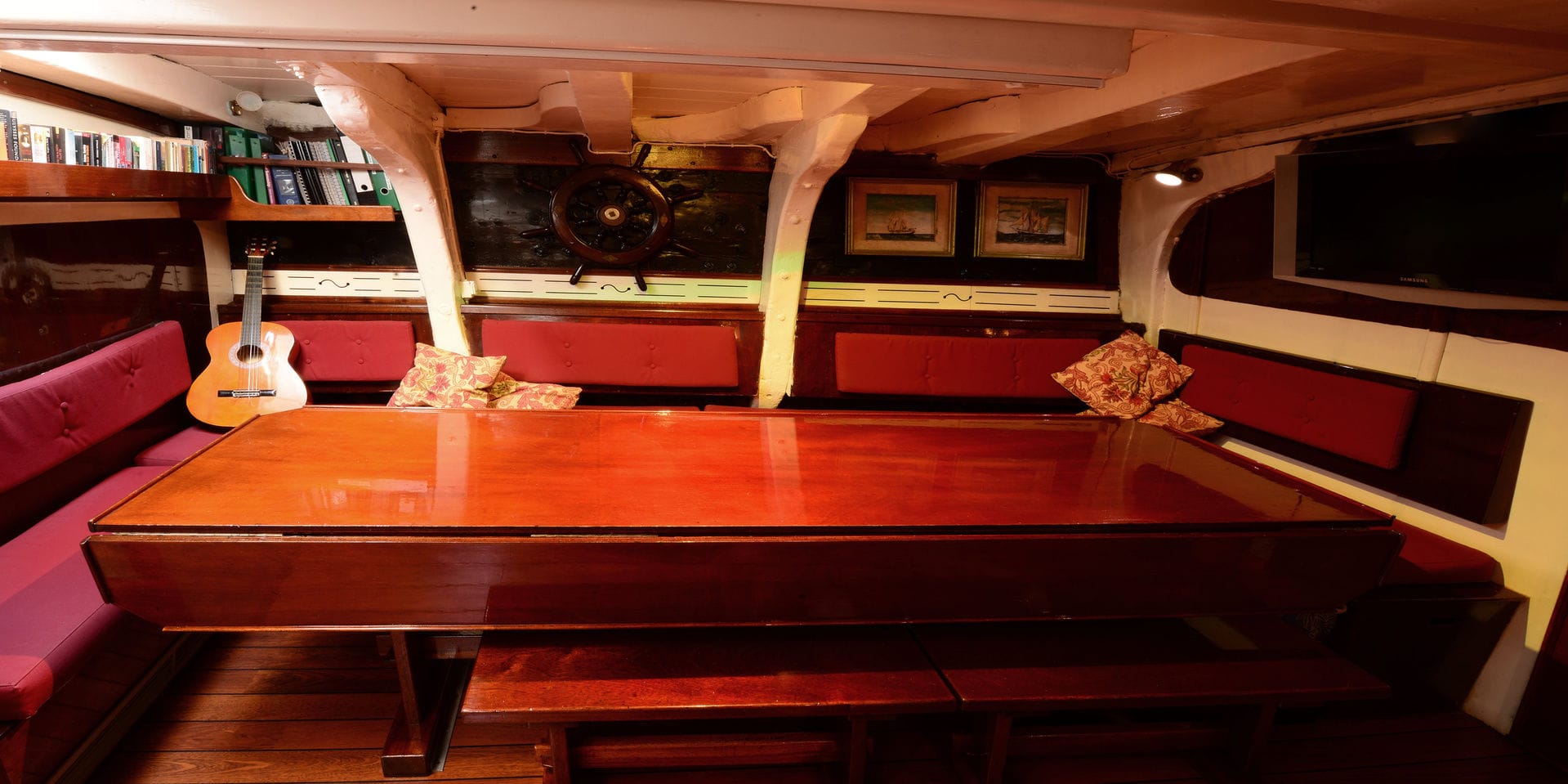 CABINS
Florette is converted from a cargo sailing ship. The total space is very generous for a maximum number of guests compared to a modern charter sailing yacht. Nevertheless, the cabins and the sanitary facilities are very small compared to the ones on land. We have eleven double cabins, five of which have an extra bunk for a child. They are equipped with a sink, small table and cupboard.

Some movement onboard can be assumed, in the case of motion of the sea. Sometimes, especially older people experience problems with this. If you have health impairments or disabilities, please consult with us before you book
There are eleven double cabins on board. All cabins are equipped with running water, a 220V connection, a small table, a cabinet and a big deck hatch for fresh air and natural daylight. The cabins are equipped traditionally with bunk beds (without ladder) or a small double bed. The beds have spring mattresses, pillows, sheet and blankets. The ship has heating and air conditioning.
Cabine space
The total space is very generous for a maximum number of 27 guests. Nevertheless, the cabins and the sanitary facilities are very small compared to the ones on land. However, once you get used to the very compact design of the bathroom and toilet, you will wonder how such small a space can be used so well. Please note that there is only little place in the cabin and therefore avoid bulky luggage like large suitcases
below deck
Saloon: 36 sq m with bar and 2 large tables for eating and sitting
11 guest cabins, of which 5 have an additional bed for a child
4 sanitary-facilities
DECK
MEETING POINT PLEACE TO EAT AND PURE ENJOYMENT
SLEEP BELOW THE STARS
Florette offers a nice place on the deck for every wish. For convivial gatherings of sun lovers as well as for the solitary connoisseur. Some surfaces are equipped with soft mattresses and are thus particularly popular. The ropes are also pulled together on the deck to set sail. Therefore, the deck is also a feast for the eyes with countless ropes and wooden elements - a setting from a time long past.
While Sailing along We can watch the water go by while soaking up the warm sun. This is a great place to just unwind and have a great conversation or simply stare at the beautiful water.
The ultimate way to relax on Florette is on the Sundeck or a Siesta in a hammock! There is nothing quite like curling up for a nap while the ship is gently rocking you to sleep. There's nothing better than waking up totally relaxed and happy to a sunrise and then jump into sea. Florettes charm is an authentic one.  Between the white sails, You will experience a private home and a touch of pirate adventure.

Enjoy your voyage on board a majestic windjammer.
The sun deck
Almost an entire life pans out on the 140 sq m large main and sun deck. One can get together to eat here under the sun while sailing in a dreamlike maritime environment. Wind blows with a gentle breeze while the sun lovers relax on the reclining area and enjoy the view. Conversations in pleasant company, a delicious drink in the atmospheric evening hour or see one of the incredibly beautiful sunsets in quiet and romantic solitude – the deck is the hub for life on board.  A true experience for many landlubbers. The guests are very relaxed right from the initial days due to the exceptional on-board life and thus sleep well too.
Accommodation on deck
Enjoy the nights under the free, starry sky on the deck. We recommend the use of a stable air mattress or a thermal mat and a sleeping bag. You will love it.
SAILING AREA
THE MAGIC SPOTS IN WESTERN MEDITERRANEAN SEA

Focus on Tyrrhenian Sea
The main sailing area is the western Mediterranean Sea. The focus is on the Tyrrhenian Sea, which is considered one of the best sailing areas in the Mediterranean. The magic Coast of Calabria, the unesco hertiage Aeolian Islands with theri Vulcanos, Sicily, the Gulf of Naples, the Amalfi Coast and Malta are just a few of our preferred halts. As a result, we always try to combine old-time-sailing with nature, volcanoes, ancient culture and the specialties of the regional Italian cuisine. Naturally, relaxing, swimming and snorkeling and also shopping-opportunities won't be missed out.
 .
CREW
A STRONG TEAM, A FAMILY AND THE SEA
Since 1978 Florette is owned by 1 family. The Haynes family, form the regular crew with 3-4 additional crew members. 
We navigate the Mediterranean Sea and love to share our experience and our know-how.
Allow us to entrap you in the time of the old windjammer – you won't regret it.
Master and Owner  Ron Haynes(JR)
Captain Rony Haynes grew up on the ship and came on board when he was 6 days old. He learnt the old sea craft on the Florette from his childhood from his father. It was followed by a school education, craftsman apprenticeship in Germany and the captains' training in Germany, Italy, France & Malta. Since 1999 he has taken over the captain's position and thus the leadership from his father and since then sails on the brigantine Florette with his family as the 2nd generation. Great expertise and knowledge of waters makes your stay a safe and special experience. Rony is half Bavarian, half English - he also speaks Italian fluently
Nicole Haynes
Nicole Haynes was born and brought up in Canada. For 7 years she was an officer and rescue diver in the Canadian navy. 
After that she has worked on different private yachts and is a permanent member of Florette Crew since 1999.  On board, she has the position of the first mate and is also an excellent cook.
Jaden Haynes
Previous sea-experience: Born in May 2007 in Malta and joined the ship when she was one week old, since then she has always been a permanent crew member on board of Florette.Jaden has her personal Teacher onbord. She loves sport Diving,Sailing and Waterpolo Also enjoys mindcraft and welcomes chidrean onbord to share her adventures.
Amber Haynes
Previous sea-experience: Amber came into the world in January 2008 and joined the ship when she was 2 months old. She loves the sea like all other Haynes. Allready today she is considering being a captain. She also loves sports and sails with the royal yacht club in Malta.
Ships dog  Bosun or short  BO
Champagne Labrador on board since 2015. Loved by children and guests ... he can really live the typical Labrador character to the full on-board the Florette.
HISTORY
Florette was built in one of the most famous shipyards of Italy, the Picchiotti shipyard. The Picchiotti shipyard can be traced back to the 16th century in Limite sull'Arno, Empoli.

Old salts used to say

"Se vuoi una barca da cammino, testa grossa e culo fino,
cioè la classica barca viareggina".
"If you want a fast ship, you need a big bow and
a small stern". – this was according to the typical design of Viareggio.
The schooners of Viareggio, Brigantino, Barquentine (Barcobestia = Best BARK) were famous for their exceptionally good sailing characteristics, their seaworthiness and durability. There are reports that their cargo ships were working actively for over 200 years in the Atlantic trade and were copied by other shipyards. The fastest ships were also called frecca del Mare.
Florette was built in one of the most famous shipyards of Italy, the Picchiotti shipyard. The Picchiotti shipyard can be traced back 
to the 16th century in Limite sull'Arno, Empoli. The shipyard later expanded to Viareggio among other places, where it became one of the most important pillars in the Italian ship building industry. Florette belonged to the last original windjammers that were still built for active cargo shipping. An unbelievable and touching history begins.
Florette must assert itself against the modern cargo ships. Then the dangerous deployment in war follows. Florette was constructed with expertise as well as in the tradition of old ship builders that emerged in the golden age of windjammers. Therefore, it is one of the last sailing ships in the Mediterranean sea that combines graceful lines and a perfect construction into one of the most beautiful and seaworthy square rigs, thanks to the great craftsmanship of the Picchiotti shipyard and her loving owners a small jewel of maritime history is preserved.
Would you like to sail along with the
Florette ?
Explore some of our sailing cruises