Blue Clipper
North Sea , UK , Scotland , Channel Islands , Greenland and Iceland , Atlantic ocean , the Caribbean , Mediterranean Sea , Canary Islands
ABOUT THE SHIP
Blue Clipper is a three masted gaff rig schooner. This means that the sails are rigged to run from forward to aft along the length of the ship. There are 10 sails, with an area of 675m2. She has a steel hull and teak deck, steel masts and wooden booms/topmasts.
Below deck Blue Clipper has three main compartments. Furthest forward is the forepeak, with 4 trainee berths and 2 crew bunks. In midships we have the guest accommodation with 6 twin ensuite cabins and a family cabin for 4-6.  Furthest aft there is the crew quarters, with 4 twin cabins and shared bathroom. The engine room and lazarette are also located at the aft of the ship. At full capacity the ship can accommodate 30 people. The deckhouses are home to the galley, the saloon and the wheelhouse.
The ship usually sails with 8 crew, made up of experienced permanent crew and eager volunteers, wanting to put their sailing knowledge and experience to good use.
MEALS
All meals are included in the price of your voyage along with tea and coffee. Breakfast, Lunch, cake in the afternoon and Dinner are prepared by our lovely chef and served in the comfortable saloon. Alcoholic  drinks are available during meal times, at anchor and when the vessel is alongside in port.
CABINS
In the middle section we have the guest accommodation with 6x twin en-suite cabins and 1x en -suite six-berth family cabin. Each cabin has two bunk beds with comfortable memory foam mattresses, duvet and pillow. Each bunk has it's own reading light and all cabins have a porthole for natural light. Each cabin has heating/air conditioning available.
Each bathroom has a shower, sink and toilet.
All cabins have plug sockets for charging electrical devices. These are European 2 pin sockets. We ask that you do not leave items on charge when you are not in the cabin.
LAUNDRY
We are able to do laundry on longer passages, depending on the sea conditions. If you would like to do laundry on board please speak to the hospitality manager or stewardess on board. The fee for laundry service is £10 per load. Please note that Maybe Sailing does not accept liability for damage to clothing caused by this service.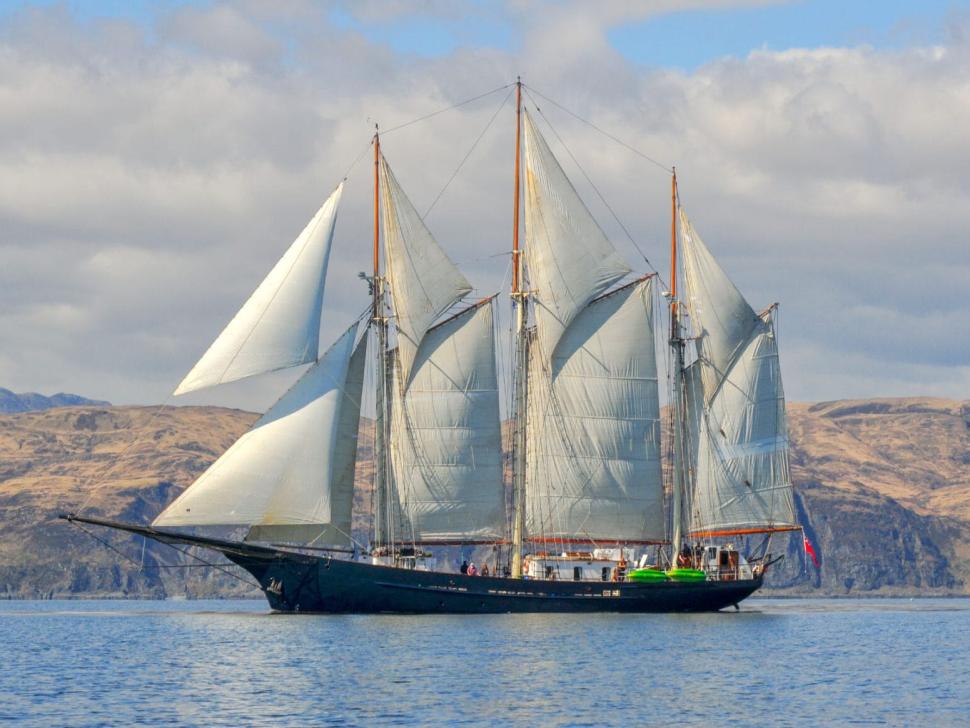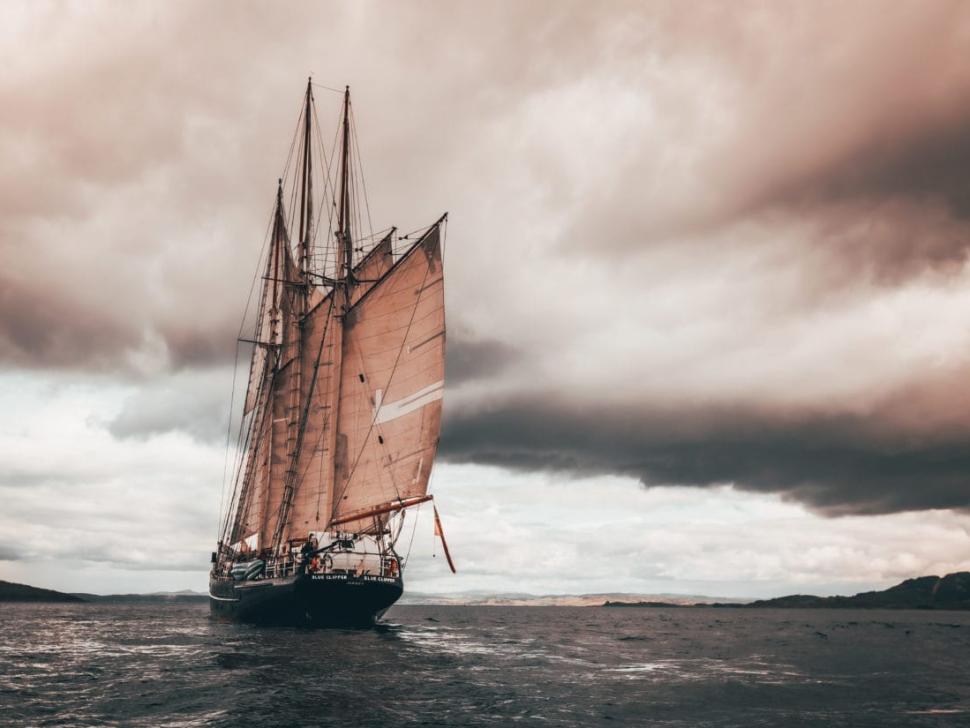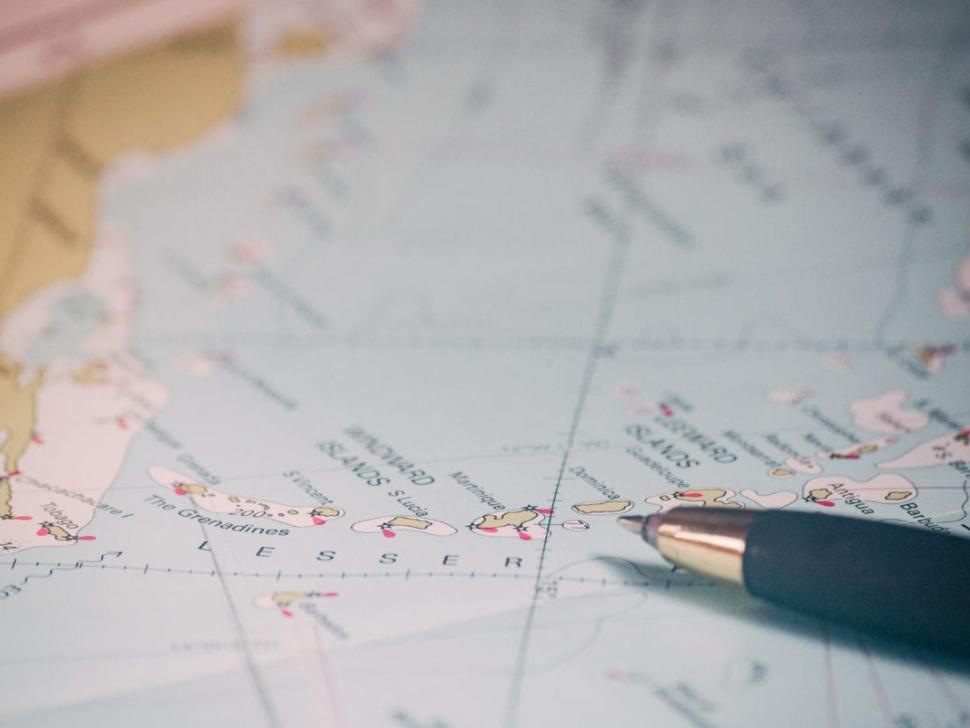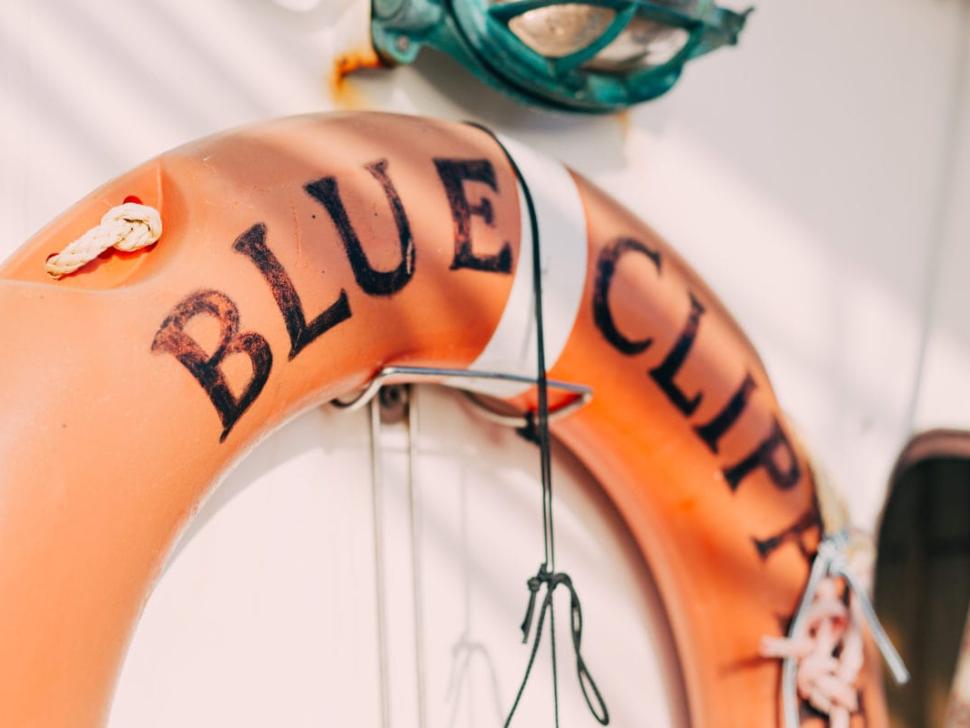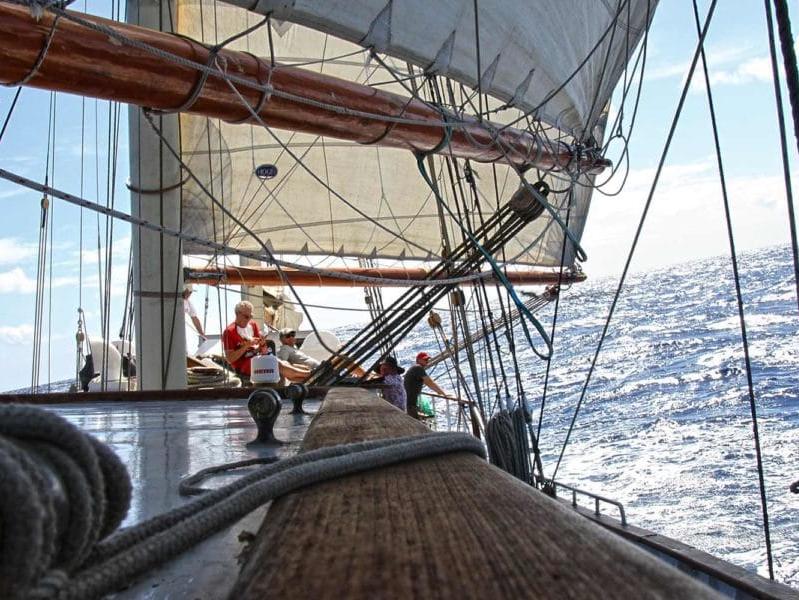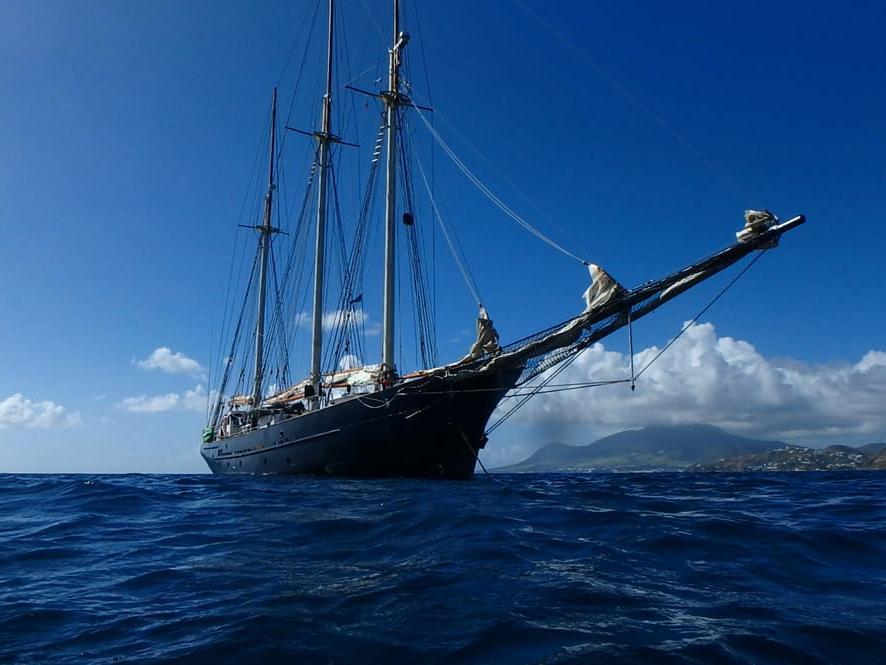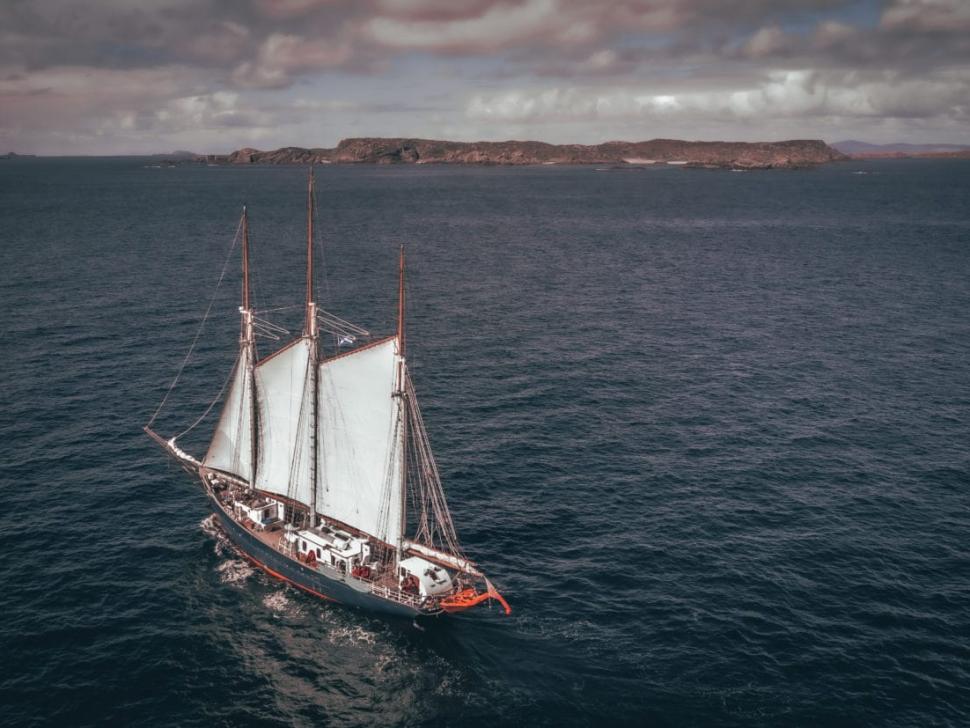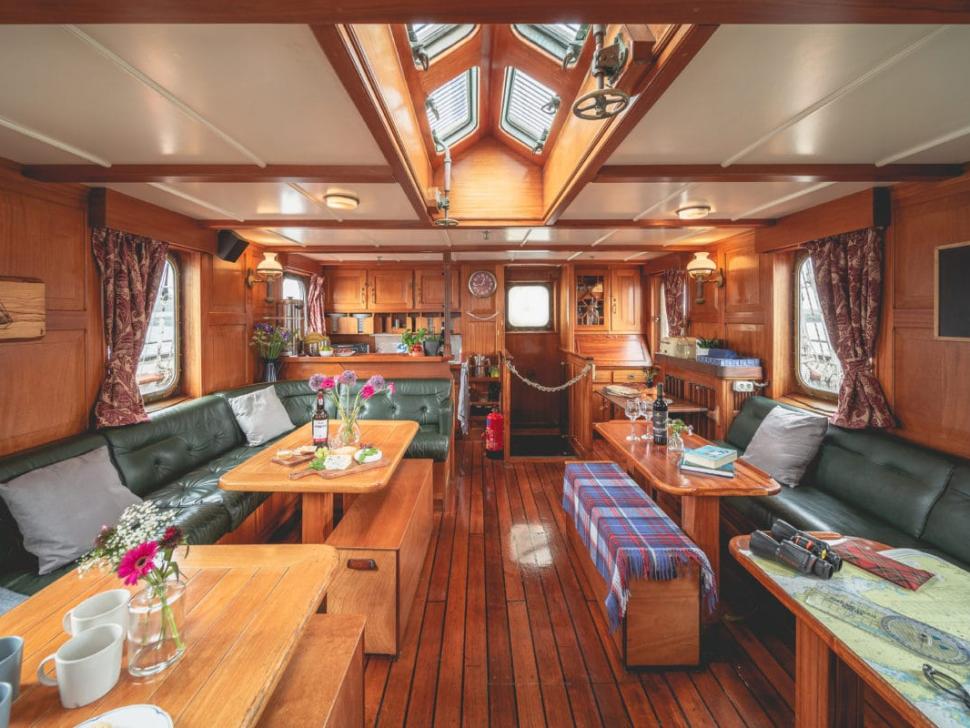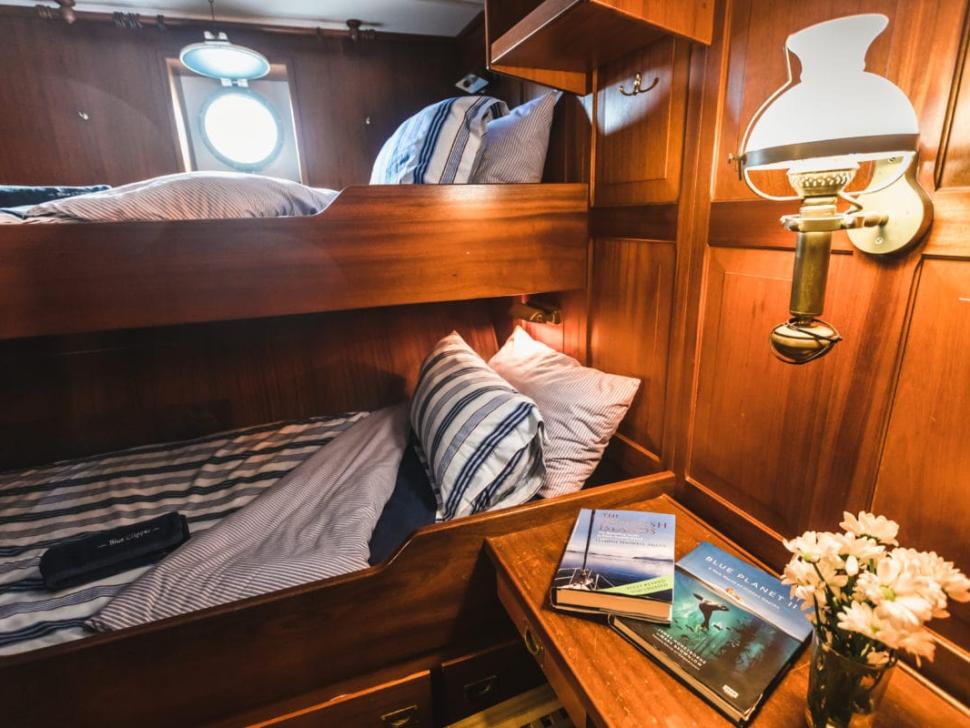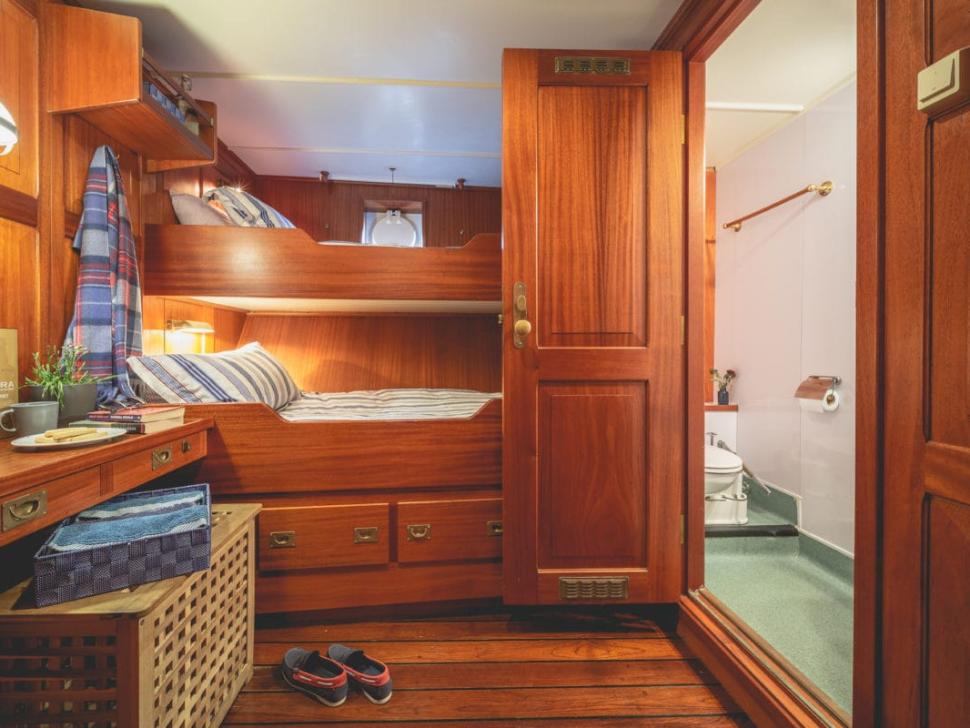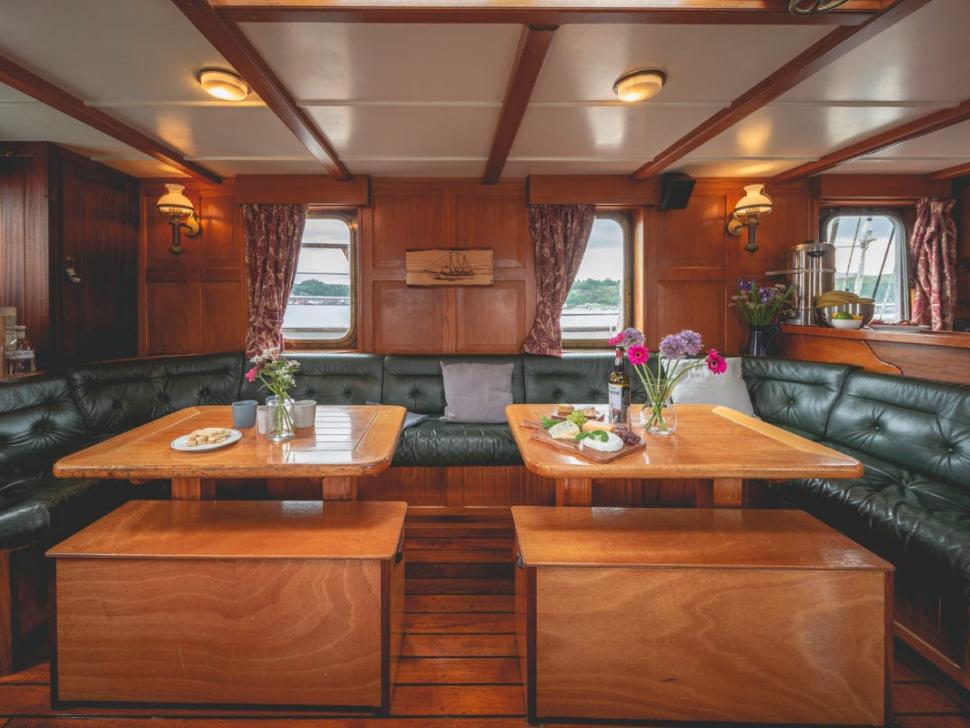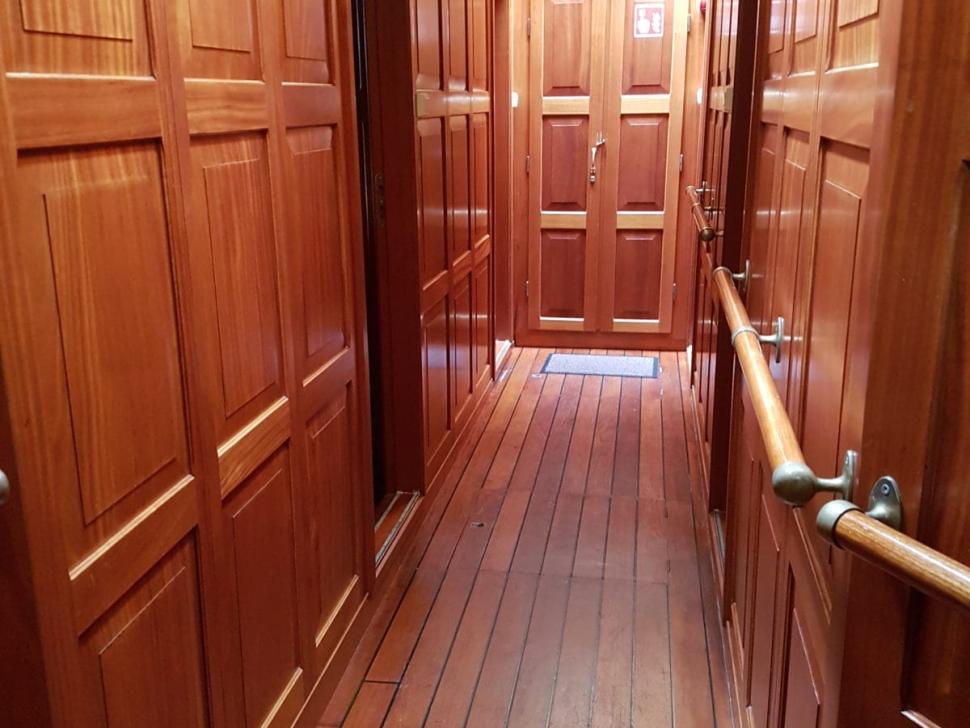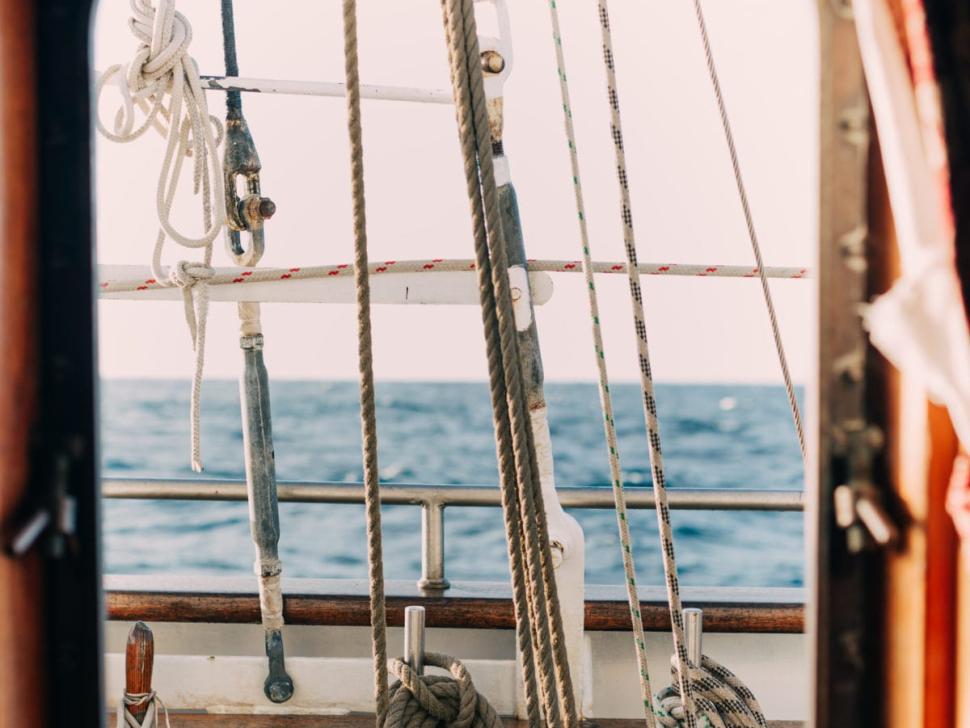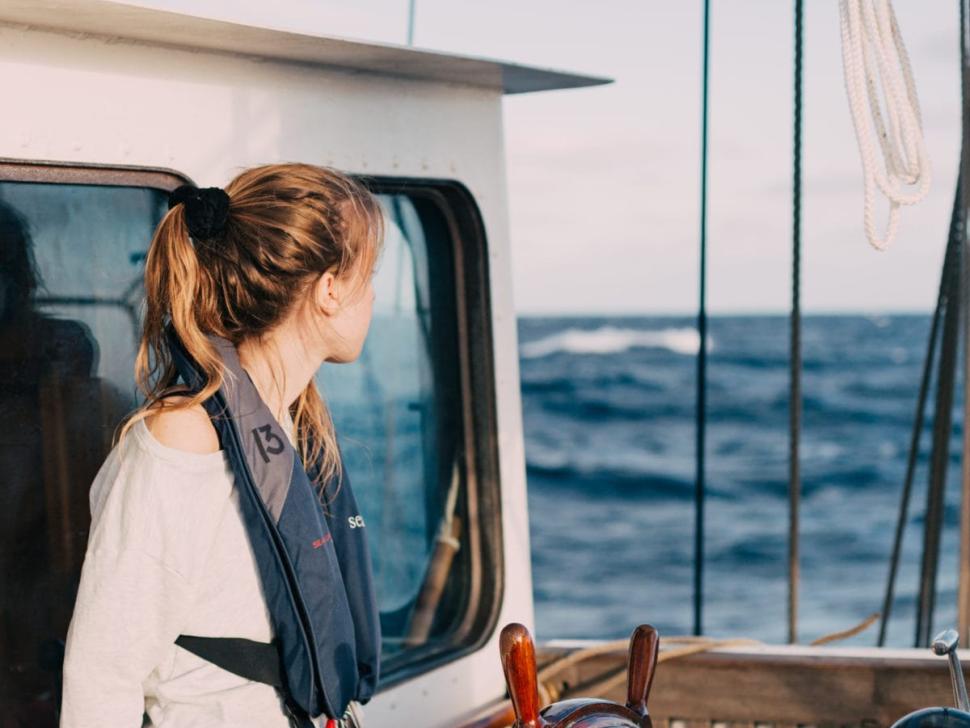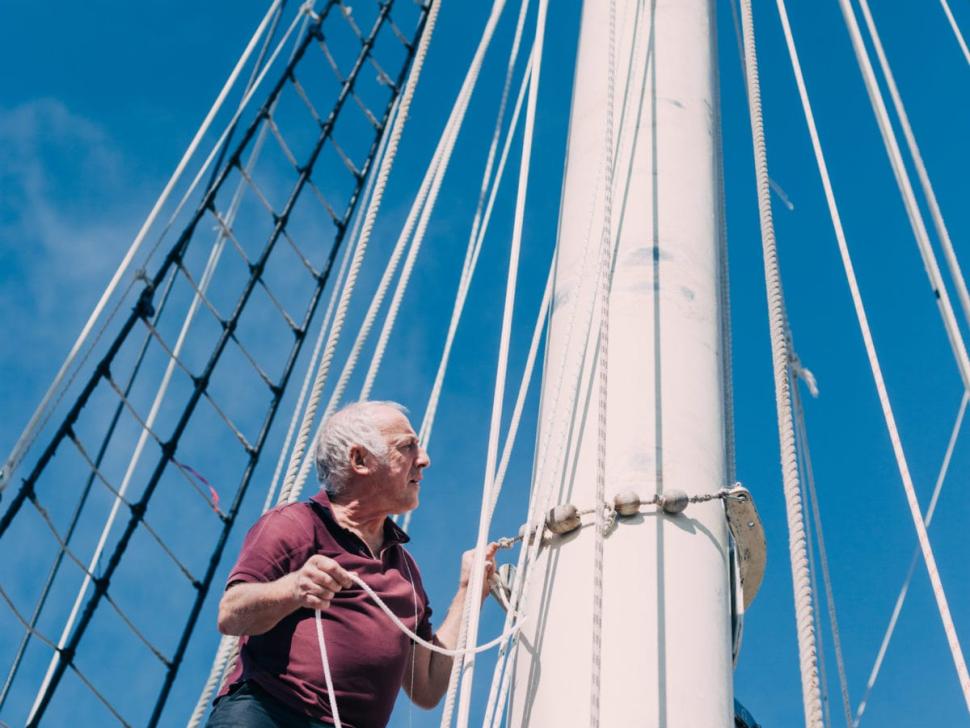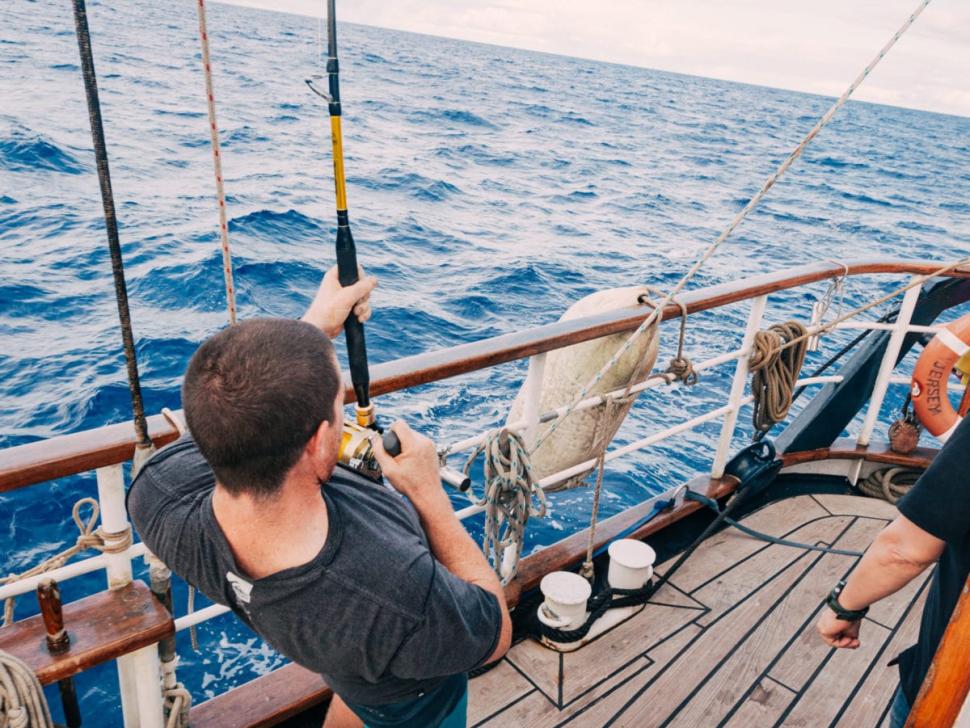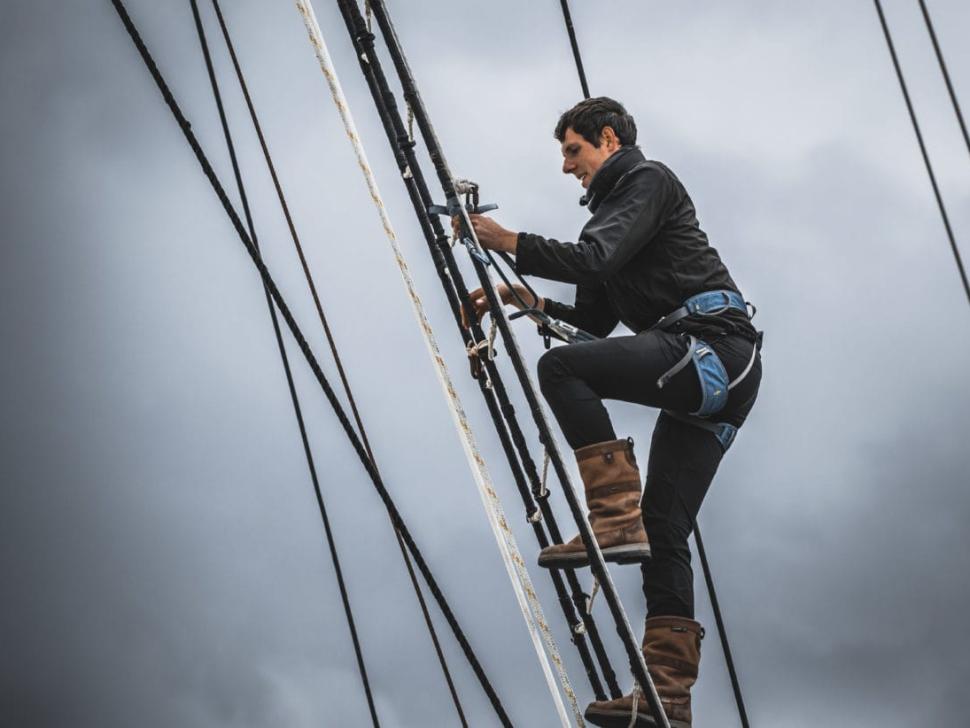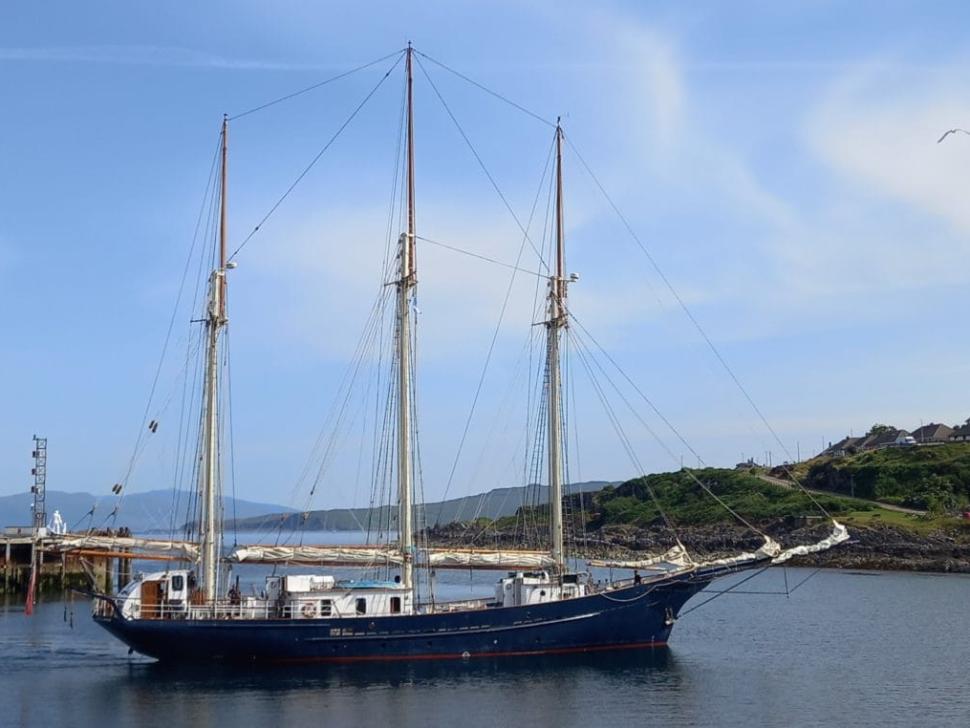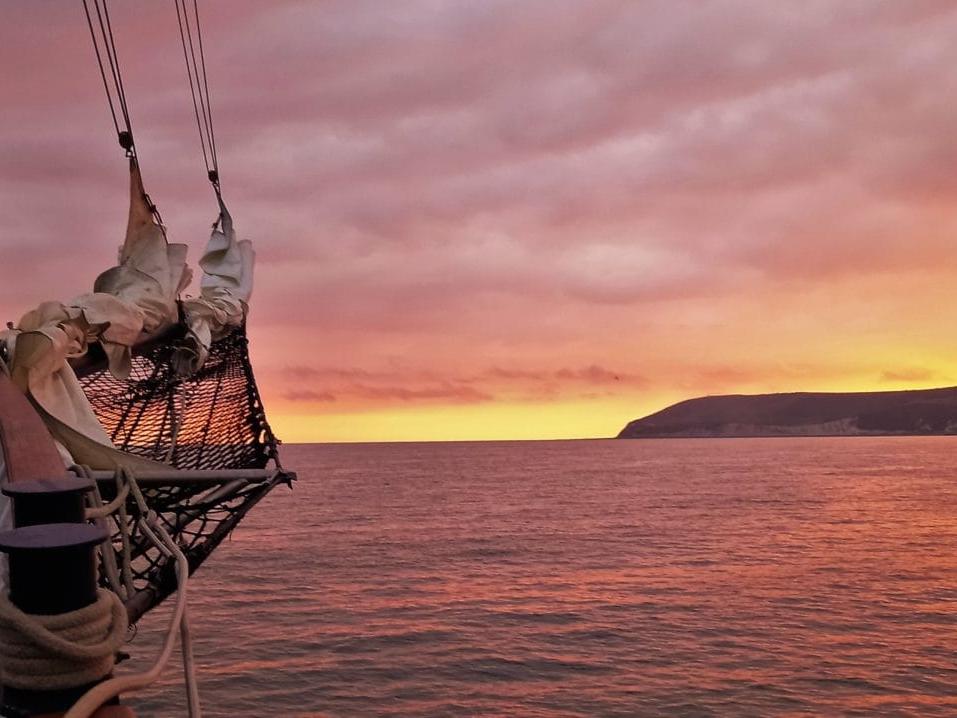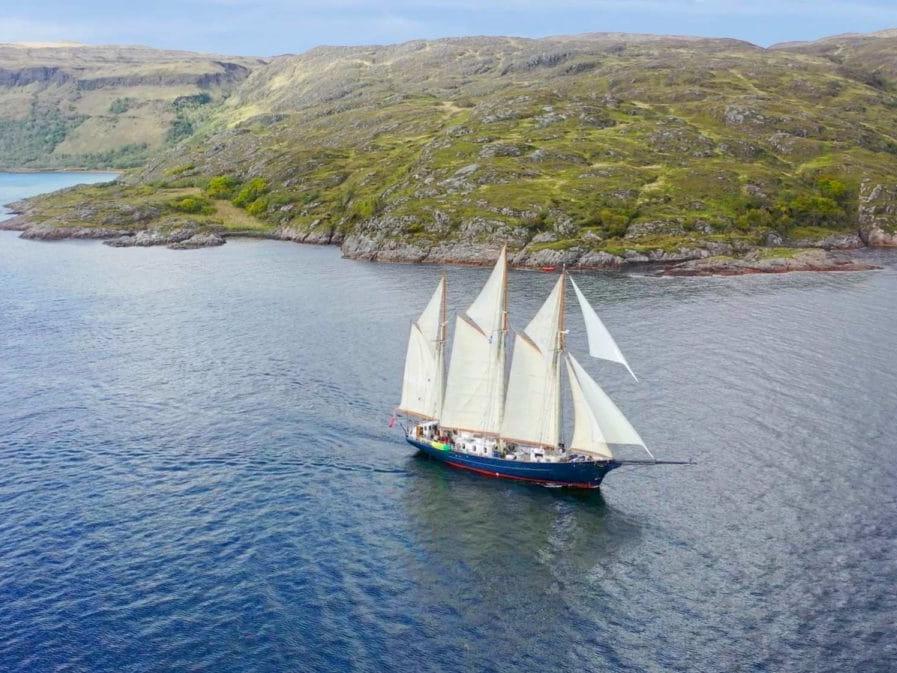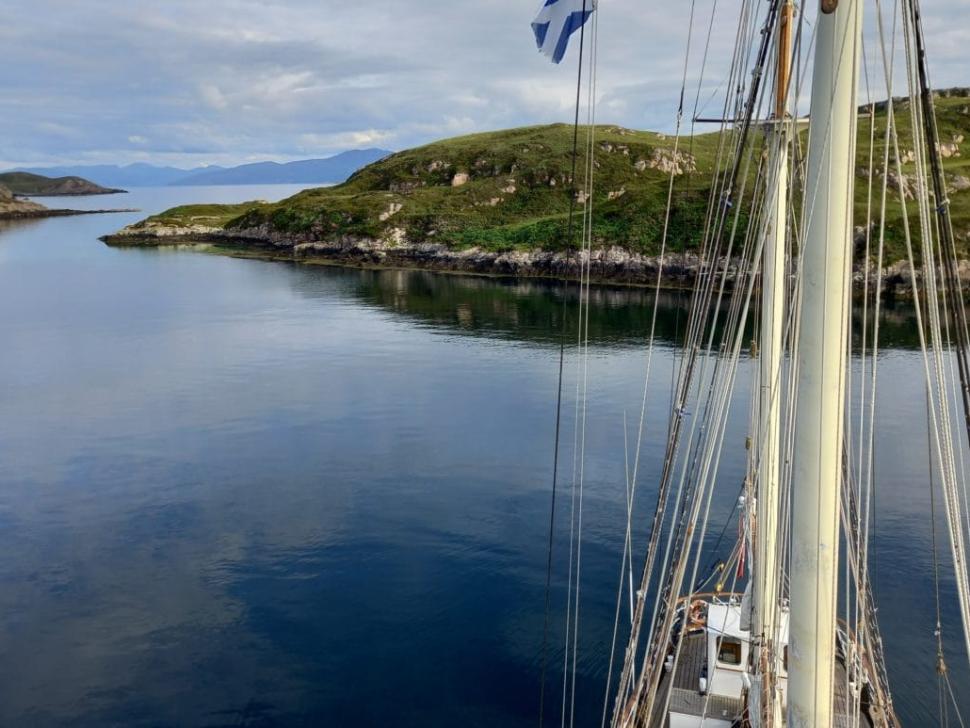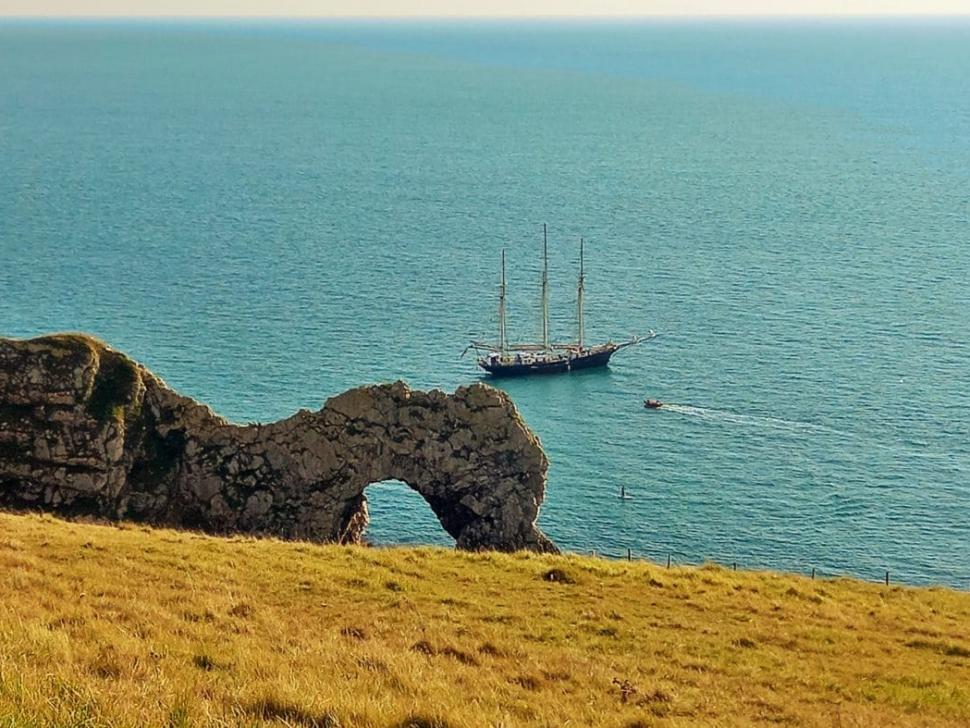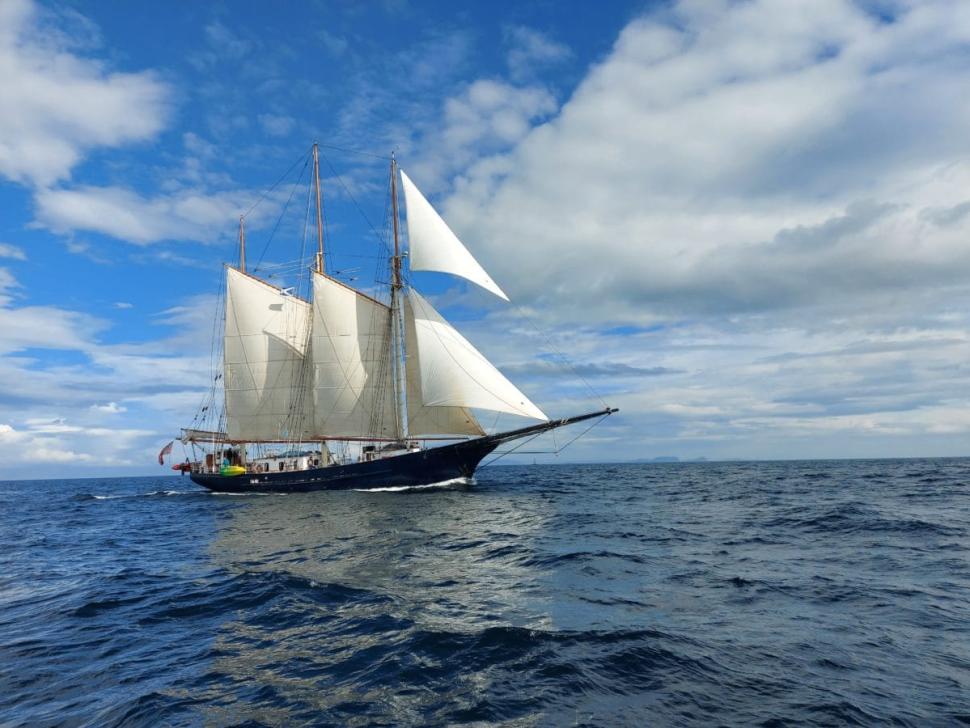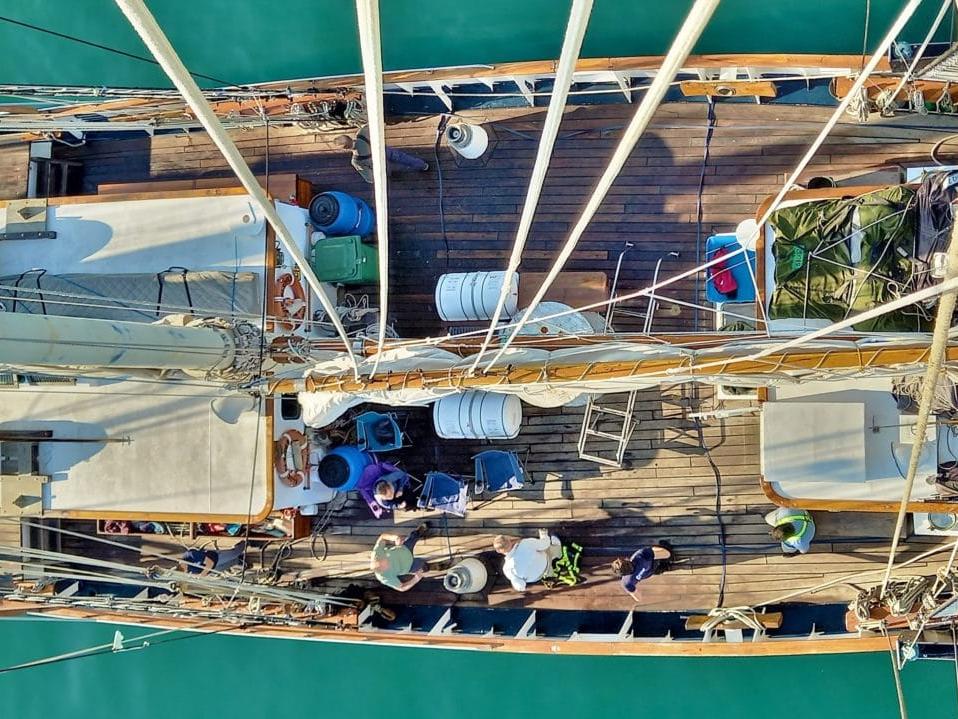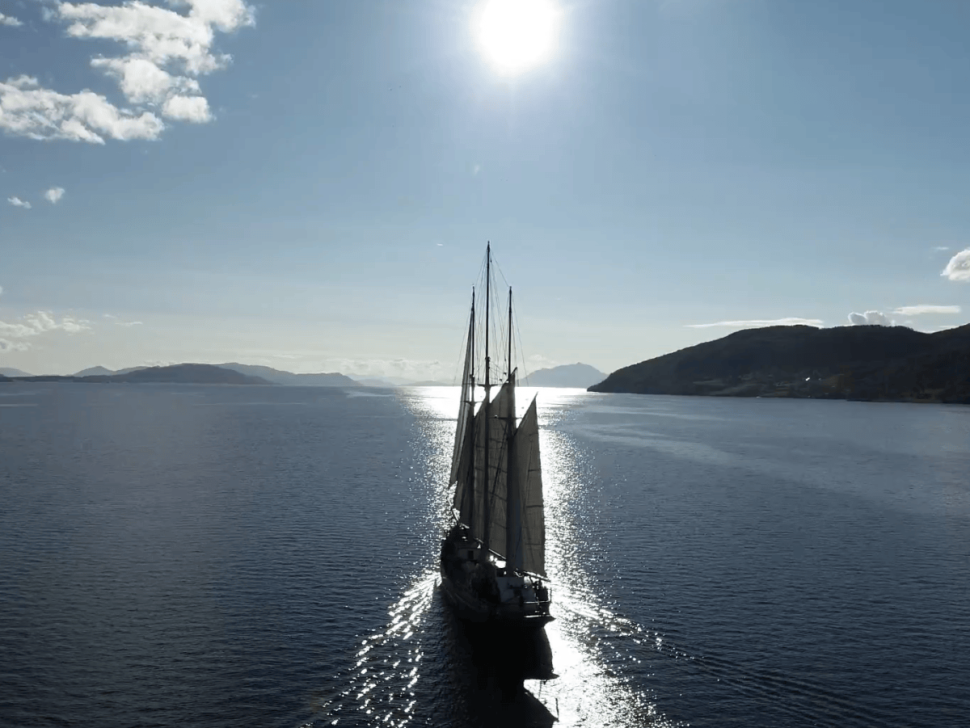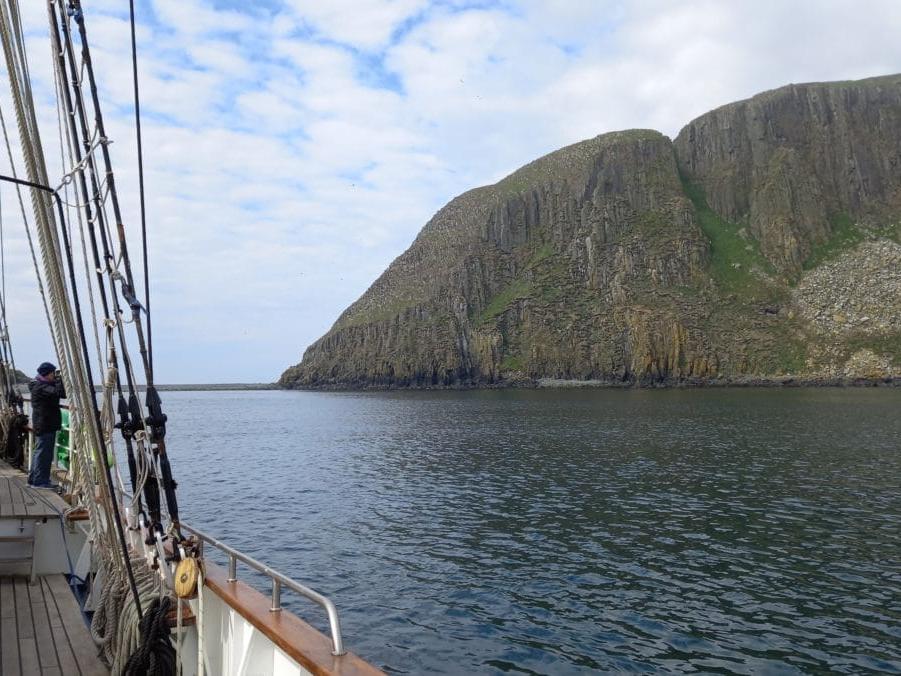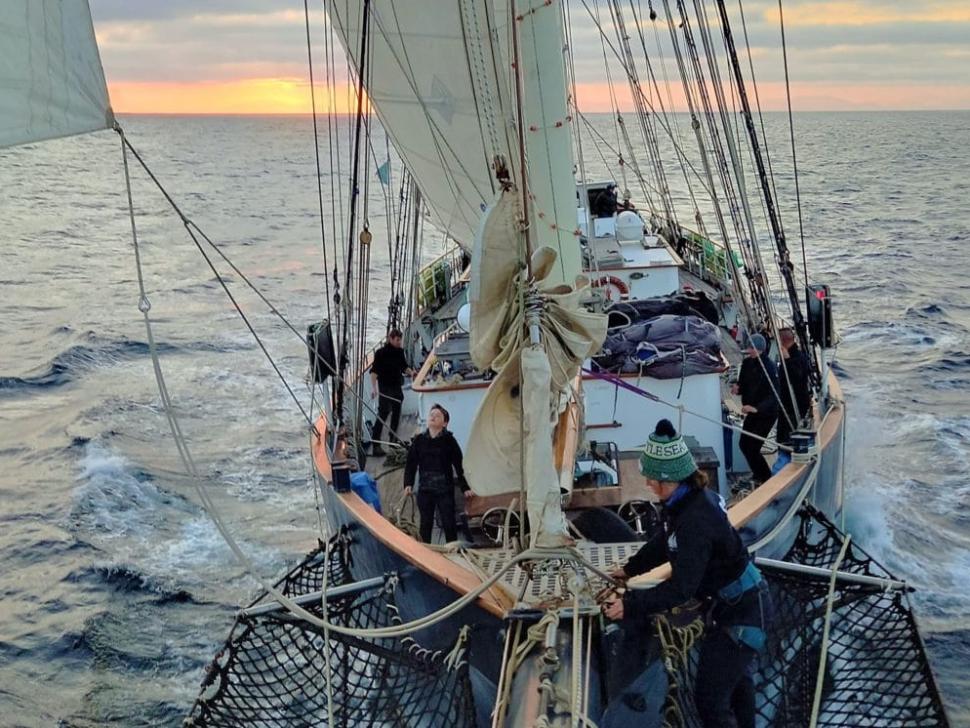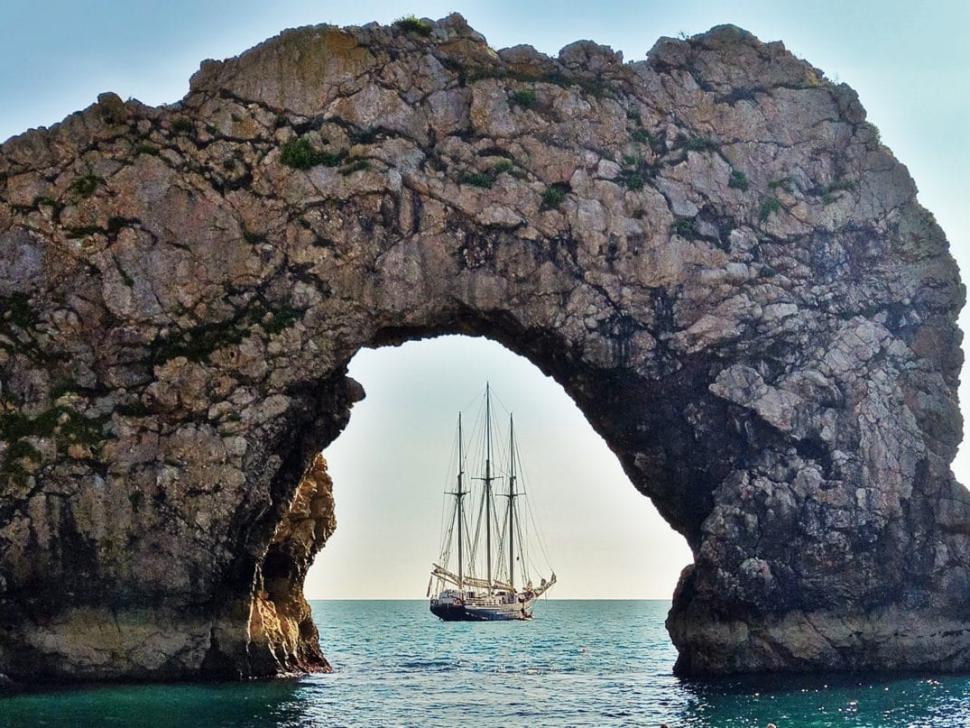 Specifications
Total number of berths : 30
Number of guest berths : 12
Number of bathrooms : 9
Cabin configuration : 6 x twin ensuite cabins
Smoking policy : Discretion of the Skipper/ on deck only
Builder : Feab Marstrandsverken
Year built : 1991
Length overall : 44m/242'9"
Number of Sails : 10
Rig : Gaff Schooner
Sail Area : 675m²
Engine : Caterpillar
Crew : 8-10
Gesproken talen aan boord: English
HISTORY OF THE BLUE CLIPPER
Tall Ship Blue Clipper was built in 1991 at Feab Marstrandsverken in Sweden. In 1992 the famous brandy company Hennessey chartered Blue Clipper to celebrate the anniversary of the first delivery of cognac from France to Shanghai 120 years earlier. Painted white and with the name 'Spirit of Hennessey' Blue Clipper repeated this historic voyage. She has appeared in various TV programmes and TV commercials including the Trade Winds TV series starring Hugh Johnson. Following this, she went into private ownership and sailed in Mediterranean waters under a Maltese flag.
Blue Clipper is an elegant schooner rig tall ship with sweeping teak decks and plenty of space below decks – perfect for those wanting an active sailing holiday in comfort and luxury!
GETTING INVOLVED
From hoisting the sails to taking the helm, the friendly and knowledgable crew are always on hand to show you the ropes. Part of the beauty of sailing with such a magnificent vessel is the opportunity to get involved in a safe and supported environment! The permanent crew are all professionally trained so as much as guest involvement is encouraged, if you just want to sit back and take in the view or are concerned about your physical ability to hoist ropes – there are plenty of other boat jobs such as coiling ropes, preparing lines and keeping watch! On her longer Atlantic crossings, guests will work hand in hand with the crew to take turns on the night watch system.
SLEEPING AND RELAXATION
Her deckhouses are home to the galley where the dedicated chef cooks up breakfast, lunch and dinner for guests. Using as much local produce as possible; think hearty, home-cooked meals, fresh bread and cake – perfect after a day in the salty air. Alongside the galley is the generous saloon area. Comfy leather sofas and long tables make for a great space to socialise with the other guests over dinner and a dram or two.
Below deck, Blue Clipper has six spacious twin ensuite cabins and one 4 berth ensuite cabin for guests. All cabins have their own reading lights, a porthole for natural light and have heating/air conditioning, with ample storage space.
A TYPICAL DAY
After a hearty breakfast, the crew will begin preparing the sails as they discuss with the guests the plan for the day. Check the charts and life anchor as the sails are hoisted in search of a picturesque anchorage preferably off the beaten track. After a few hours sailing, the anchor is dropped with chance for guests to explore ashore or simply relax on the boat with a book – the choice is yours.
The beauty about discovering the coast from the comfort of a boat is reaching those far-flung, hard to reach destinations, far away from the tourist hustle and bustle.
Blue Clipper also has 3 kayaks, 3 paddle-boards and some snorkelling kit for guest use while on anchor so you can explore even closer to the coast.
Would you like to sail along with the
Blue Clipper ?
There are no sailing trips yet with Blue Clipper